My Grandma's Plum Pie ♥
In its category, it is without any doubt the best pie in the World.
I still clearly remember when as a little girl I was watching my grandma doing it. I loved stilling little pieces of the dough and eating it raw. But the most magical part about this cake was probably the lemony icing. Only now I learned it is actually made with the cream!
My grandma prepares this pie also with other fruits but from my childhood I remember the best the plum pie.
As I have a very little oven (my pay is 22 x 30cm) you might double the ingredients (as my grandma does).
For a small pie (22 x 30cm) you will need:
♥ 250g  flour
♥ 1 teaspoon baking powder
♥ 75g butter
♥ 1 egg
♥ 1 egg yolk
♥ 45g (3 tablespoons) sugar
♥ 2 tablespoons cream (>30% fat)
♥ 1/8 teaspoon flaky salt
Topping:
♥ around 750g plums
♥ 45g (3 tablespoons) sugar
Icing:
♥ 3 tablespoons cream (> 30% fat)
♥ 45g (3 tablespoons) sugar
♥ lemons zest from 1/2 lemon
1.  Knead the dough from all ingredients. It will be quite soft. To roll it out you might sprinkle it with some flour to prevent sticking. Roll the dough out to get a thin layer (around 0,5cm).
2. Remove the stones from the plumes and tightly put them on the pie (skin facing down). More is better. Sprinkle with sugar.
3. Bake at 180'C for about 30-40min. The dough will grow a bit and it will turn golden brown.
4. In a meantime, prepare the icing. In a saucepan mix cream, sugar & lemon zest. Cook it on a medium heat until the sugar is melted. When the cake is out from the oven directly pour the still warm icing over it.
5. You can serve it directly. Enjoy ♥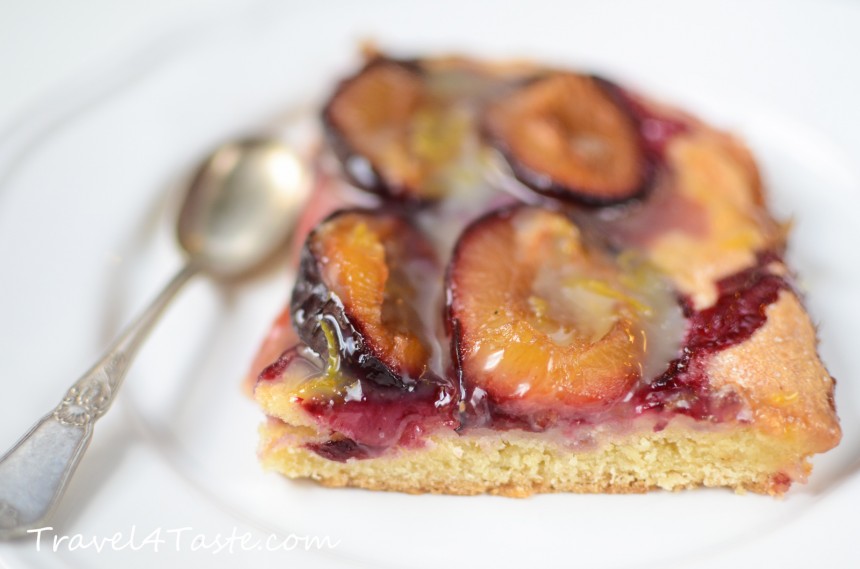 ---
---