French Mi-cuit au Chocolat

If, as I am, you are also a chocoholic this is a recipe for you! The French Mi-Cuit au Chocolat is the most chocolaty dessert I know. It is called "mi-cuit" (eng. half cooked) because of it's short baking time that results in a cooked outside but still liquid and creamy inside of the cupcake. Paradise! It will surely put you in a much better mood.
Additionally, the aphrodisiac effect of chocolate makes this dessert a perfect crown to a romantic diner. 😉
My number one dessert! You should also try the raspberry version!
Preparation time: 15min (only!)
[facebooklike]
Batter for 2  mi-cuits:
♥  70g black chocolate (70%)
♥  30g butter
♥  20g sugar
♥  1 egg
♥  1 pinch of salt
Edit: I have removed the flour from this recipe because I kept forgetting to add it! But actually this makes them even better: less cake-like and more "melting in the mouth".
Preparation time: 15min (baking included!)
1. Melt the chocolate with butter (in a saucepan or in a microwave). In a bowl whisk the entire egg with sugar & salt. Add the egg mixture to the melted chocolate, and stir it all together.
2. Put the batter in the oven proof dishes. As I did those on the St. Valentine's day, I used my heart shaped silicon forms! Bake it at 180'C for 9min. If you bake them longer they will be less creamy inside.
3. I serve them still hot with vanilla ice-cream and mint leafs or raspberries.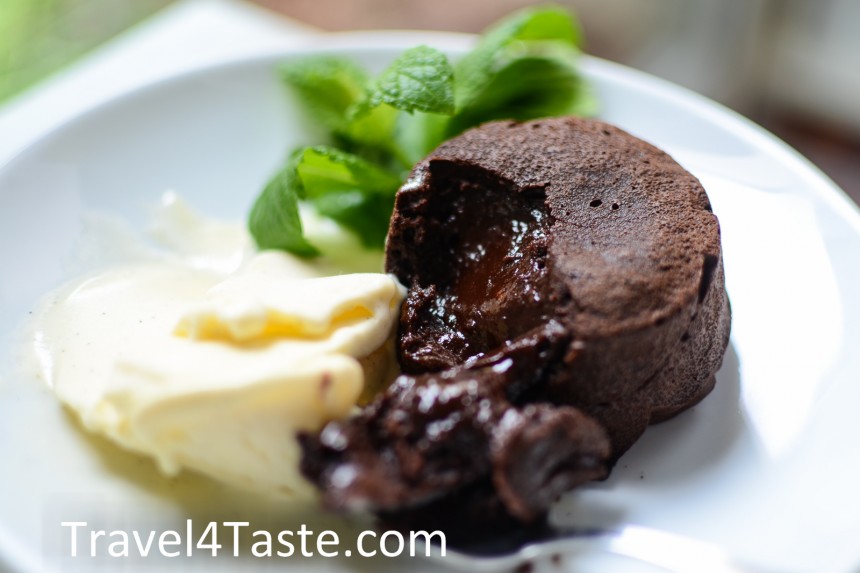 ---
---