Herbs-Infused Olive Oil Marinated Feta Cheese

Although you can buy a marinated feta cheese at your supermarket the one made at home is much better. Those that you can find in a supermarket are made with low quality feta cheese, artificial aromas and often not a pure olive oil (they add sunflower oil to make it cheaper).
The marinated feta cheese tastes amazing on salads, pastas & pizzas. In France, we also like to have it just with a piece of a fresh baguette. ♥  My boyfriend F. is crazy about it. He could have it everyday.
[facebooklike]
You will need:
♥ 200g feta cheese
♥  2 cloves garlic
♥ few leaves basil
♥ 1-2 little branches fresh thyme
♥ 1 little branch rosemary
♥  olive oil
Preparation time: 10min
you will need: a jar
1. Slice the feta cheese into 1 cm cubes. Chop the herbs. Remove skin from garlic.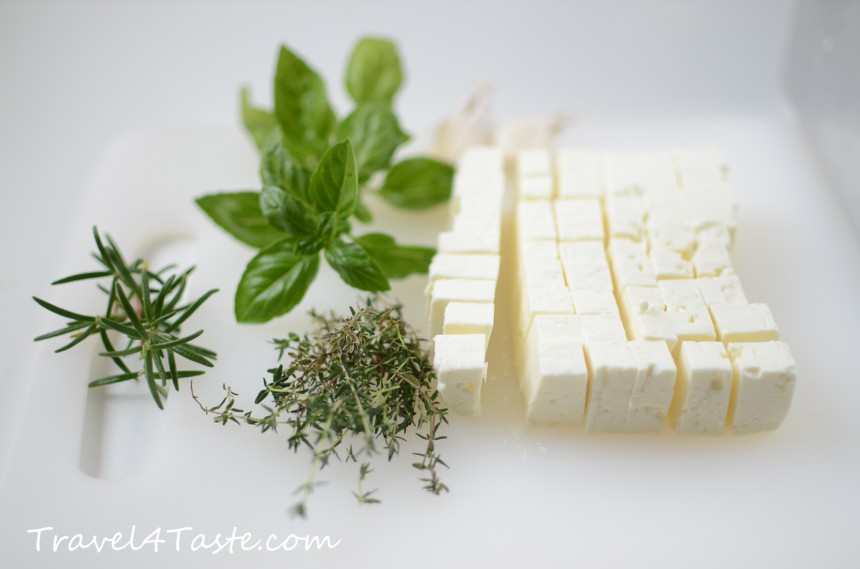 2. Pour a bit (1/4) of olive oil into the jar. Add half of your cheese then put in half of the spices. Cover everything with olive oil. Add peeled garlic. Then add the remaining cheese and spices. Add olive oil so it covers everything.
3. You can keep it in your fridge even up to two weeks. If olive oil covers the cheese it protects it from getting bad.
---
---