Tomato Egg Drop Soup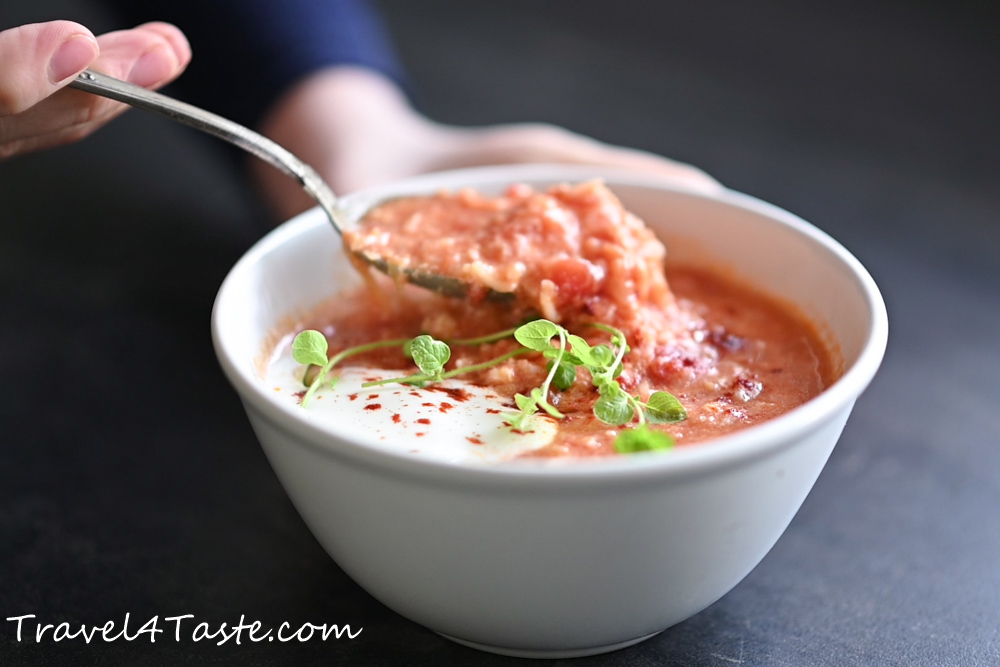 This savory and comforting soup is going to satisfy big and little ones! It has veggies, proteins and grains but it's totally efortless to make! And you probably already have all of the ingredients in your pantry!
Check out the VIDEO for detailed instructions ♥
INGREDIENTS:
♥ 2 cans (2x400ml) tomatoes
♥ 1 little leek (white part only)
♥ 1 cup chicken stock
♥ 2 cups water
♥ 1/2 teaspoon salt
♥ 1/2 teaspoon paprika powder
♥ 1/2 cup rice (dry)
♥ 1 tablespoon flour
♥ 100ml milk
♥ 2 eggs
♥ 1 tablespoon grated cheese
♥ 2 tablespoons clarified butter (or olive oil)
Serve with:
♥ greek yogurt, fresh oregano or chives, corn
1. Slice a white part of a little leek. In a soup pot, melt clarified butter. Add sliced leek, salt and paprika powder. Sweat if for 1-2 minutes on low heat.
2. Add rice and mix it.
3. Add tomatoes. You can use a fork or your hand to "cut" them into smaller pieces. Add chicken stock and water and bring it to a boil. Let it simmer until rice is soft (around 10-15min).
4. During this time mix flour and milk. In another bowl whisk the egg *just a bit, with a fork) and add grated cheese to it.
5. Once the rice is soft, pour the flour & milk mixture, stir and bring to a boil.
6. Now, over medium heat, while stiring constantly, pour in the egg mixture. Within 1 minute its texture will become smooth and velvety ♥
7. You can serve it with a dollop of greek yogurt, fresh oregano or chives. My toddler really likes it sprinkled with corn. I use a canned corn that I warm up with some butter.
---
---