Boeuf Bourguignon (Beef Stew in Red Wine)

Boeuf Bourguignon is a traditional French dish. I was often choosing it in parisian restaurants because I thought it is too complex to do it in our little apartment.
Recently I stumble upon an old video from 60s' of Julia Child preparing the famous Boeuf Bourguignon . It is unbelievable how a black & white video can move your imagination and make you really hungry! 🙂  It made me obsessed with the idea of making my own Boeuf Bourguignon. To my surprise, it turned out to be much easier than I expected! This delicious dish will worthily represent France on our blog featuring Simple Recipes from around the World.
Here you can watch the video of Julia Child preparing the Boeuf Bourguignon.
I would also like to recommend you movie "Julie and Julia" (2009) with Meryl Streep playing Julia!
[facebooklike]
For 3 portions:
♥ 300g beef (Julia Child's first choice: Rump, but you can ask your butcher for another good piece)
♥ 500ml red wine
♥ 200ml water
♥ 2 onions
♥ 2 carrots
♥ 2 cloves mashed garlic
♥ fresh thyme, 4 branches
♥ 2 little bay leaves
♥ pepper and salt, to taste
♥ 1 tablespoon tomato sauce
1. Cut the meat into 3cm cubes. Sear it on each side and put into a oven proof dish. Set it on the side.
2. Do not wash your frying pan yet. Pour the wine and the water on it. Add tomato paste and bring everything to the boil.
3. Pour it on the meat. Add thyme and bay leaves. Cut onions in half and cut the carrots into big chunks. Add them to the oven proof dish together with garlic and cover everything. Put to the preheated to 170'C oven for 2.5 -3h.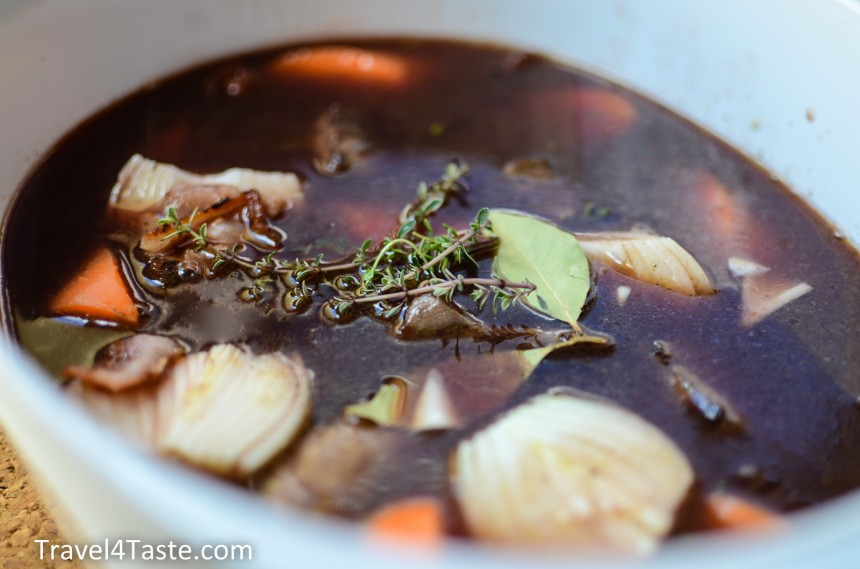 4. After this time drain the meat (I used my noodle sieve 😉 ). Pour the drained wine sauce back into a frying pan and reduce it (boil it for few minutes to evaporate some water and make sauce thicker).
5. Serve with mashed potatoes. Enjoy! 🙂
---
---