December in South Africa (2014)

This year before Christmas we are visiting South Africa. The local culture is a result of a multinational influence. Around 80% of the population is of the black african ancestry. The first white Dutch and British settlers arrived in XVII century. During the British and Dutch colonial years South Africa has been populated by many other nations such as Indian and Indonesian. Such multicultural diversity translates into very rich culinary tradition and makes South Africa an ideal destination for one of our "travels for taste".
First, we spent some days in Johannesburg, in the house of our friend's mum. It is an English speaking family with Italian roots. We were really lucky because the Mum is an amazing cook who knows a lot not only about South African, but also Italian cuisine. It was an amazing culinary experience!
Next, we visited another friend of ours who lives in Cape Town. His mother language is Afrikaans which is a daughter language of Dutch. His extraordinary sandwiches (with lot of meat) stayed in our memories still since the time we were all living in Paris. Additionally to many braais (barbecues) we tasted many of Cape Town's wines! ;).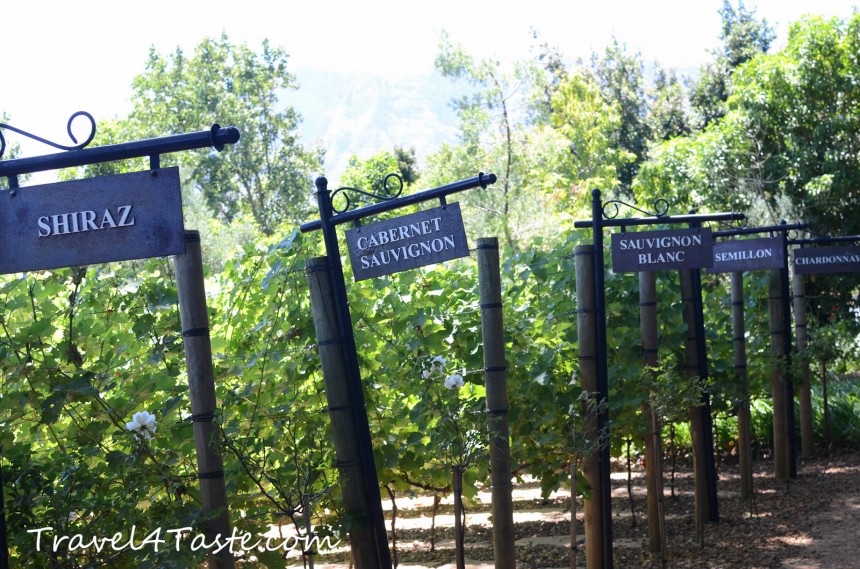 One would think that living in France we should have enough of all types of wine. However, after being back from South Africa we paradoxically miss the wine the most! We definitely didn't take enough battles back to Paris. One of our favorites, the Pinotage, is made with special South African grapes which were obtained by crossing Pinot Noir and Cinsaut.
Quite lot of fun was to pair different wines with foods. We made wine/biltong*, wine/cheese and wine/chocolate pairing (and of course I loved the last one the most!).
I'm not sure if the South African wine is really so wonderful or whether we were hypnotised by the amazing sceneries of the vineyards around the Cape Town.
*Biltong is the typical to South Africa dry meat.
We have also tried some of the African restaurants. Not only the food was delicious but I got my face painted and we could enjoy live music in the background.
With the unrealistic flat Table Mountain, beaches (some with penguins!) and beautiful weather, Cape Town is definitely a wonderful place worth visiting.
While visiting South Africa it is mandatory to do some safaris! The national parks offers breathtaking sceneries and very diverse wildlife.
Below, F. with a baby White Lions at Rhino & Lion nature reserve (Johannesburg)
We have also visited the Pilanesberg National Park. It was one of my favorite places to see the South African animals. It is a very big park where animals live in natural-like conditions. This park is so big that you rarely meet other people.
During this trip we have spent few days at the house of my friend's mum. It was really cool because I finally got to have some girl time (during the rest of the trip I was mostly with boys only). So, my friend's mum came to South Africa long time ago but she definitely hasn't forget about her Italian roots! It was a big pleasure to talk to her about world food culture. She had many interesting italian and south african cooking books. And I was amazed with her beautiful kitchen with a view on a garden. There was even a big avocado tree right behind the window!
---
---