Three weeks in Thailand (January 2014)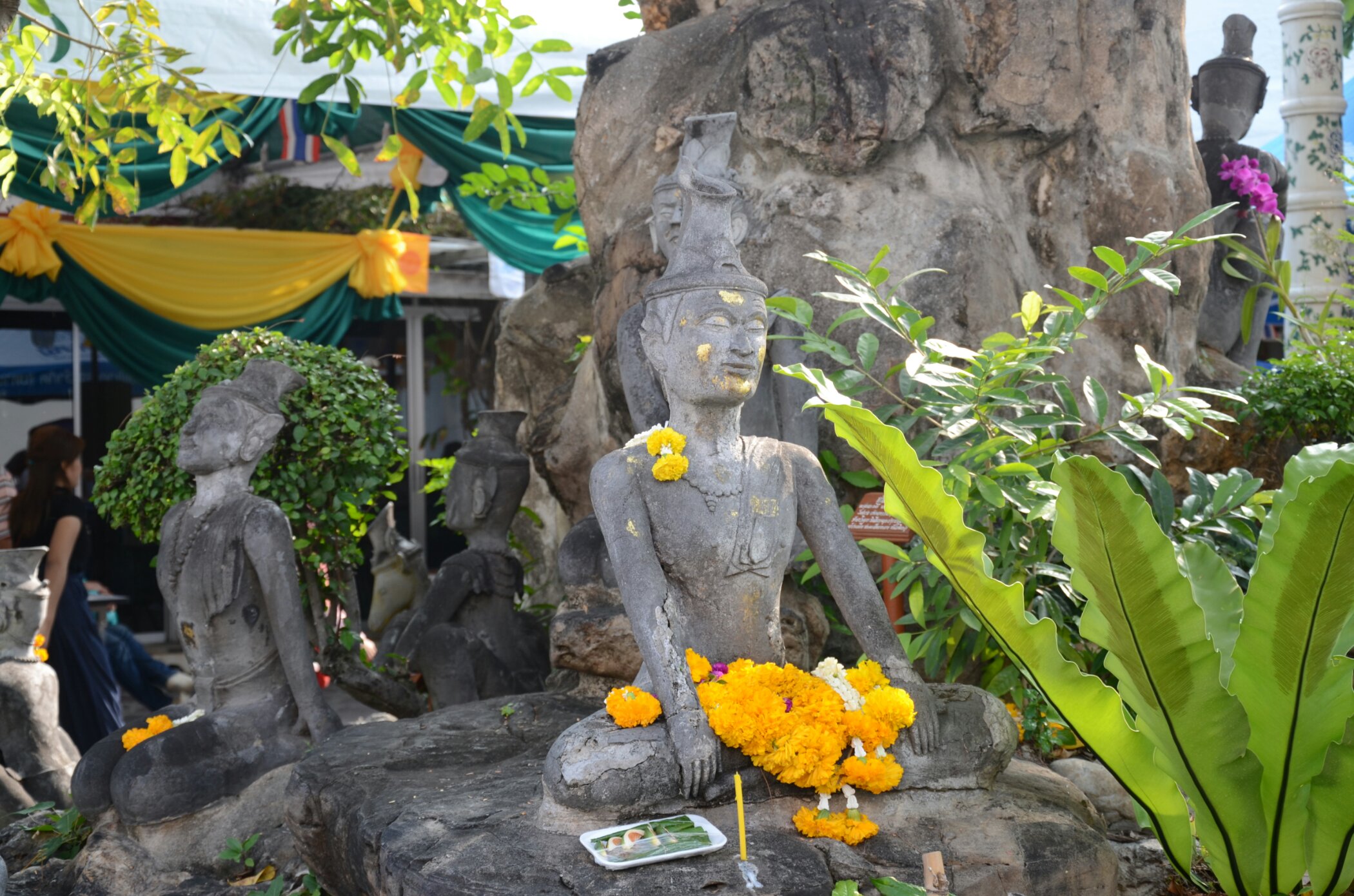 18 January 2014
Last night in Bangkok
We decided to enjoy our last evening in Bangkok on one of its rooftop bars! Amazing views and delicious cocktails at Octave Rooftop Lounge & Bar.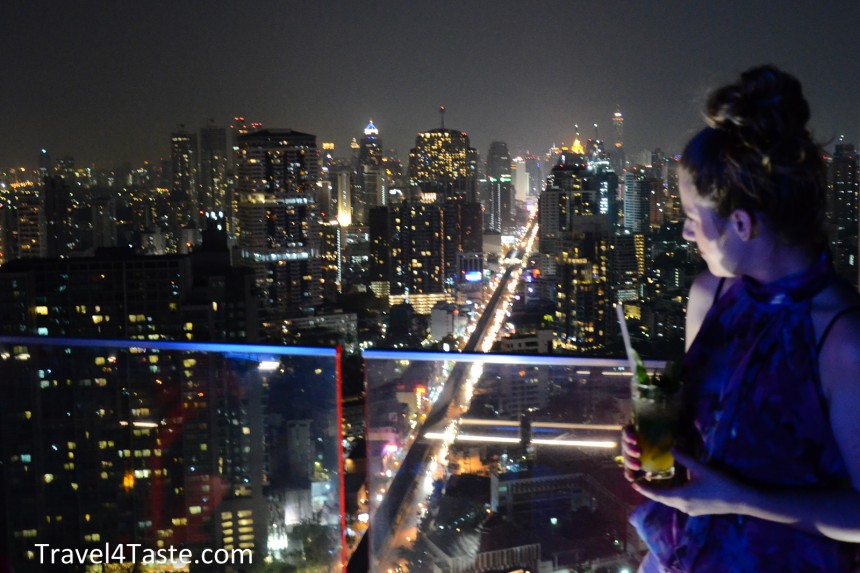 17 January 2014
Damnoen Saduak Floating Market
We went to Bangkok by night train from Chumphon. Everything went really smoothly and we arrived to our destination at 6:30 am. We left our big luggage at the station and quickly caught a taxi to Damnoen Saduak Floating Market. It is located 100km outside of Bangkok. Even though the taxi was the most expensive option (800Baht/one way) we didn't want to lose any precious time because the market was closing up already at 1 pm.
We honestly had an impression this floating market runs only for tourists! Anyway, it was really present to have a lunch on a boat! We had Pad Thai, some spring rolls, a coconut, and many fruits!
Jackfruit:
Rambutan fruit: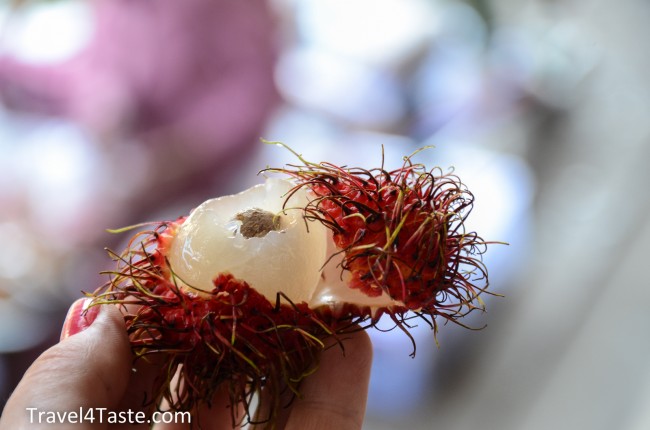 Mangosteen: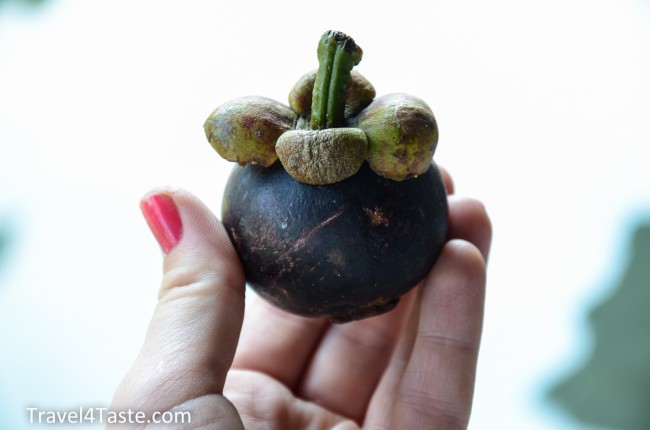 12-16 January 2014
4 nights on Koh Tao Island 
Koh Tao is a breath taking island . Beautiful nature, beaches with palms and warm (27'C) water.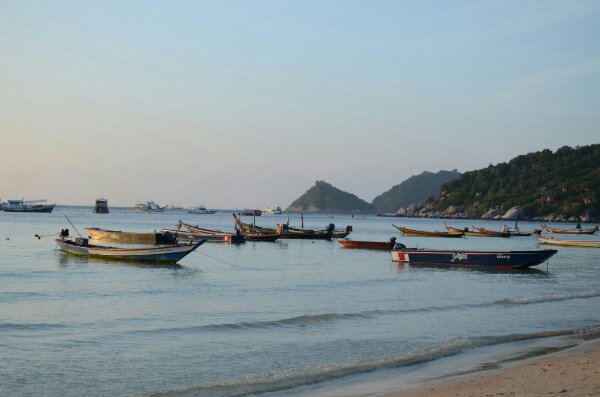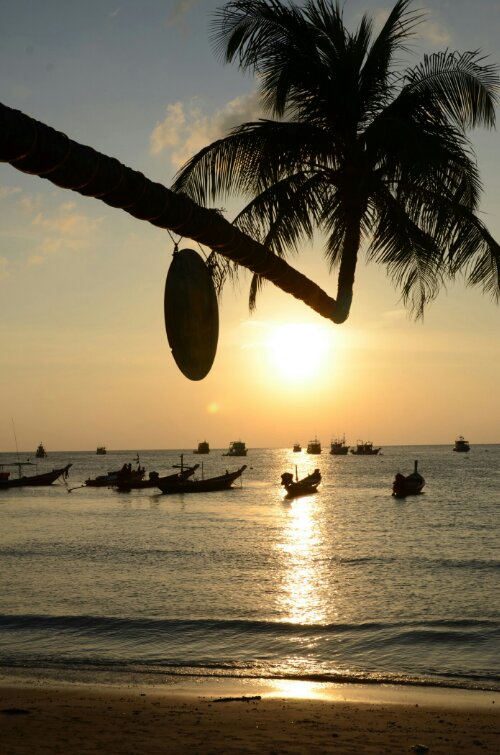 Unfortunately, people from entire world come here attracted by this paradise-like atmosphere. Koh Tao is full of young, beautifully teint people that came here to have fun. There are hundreds of scooters here which makes it dangerous and unpleasant to walk around the island.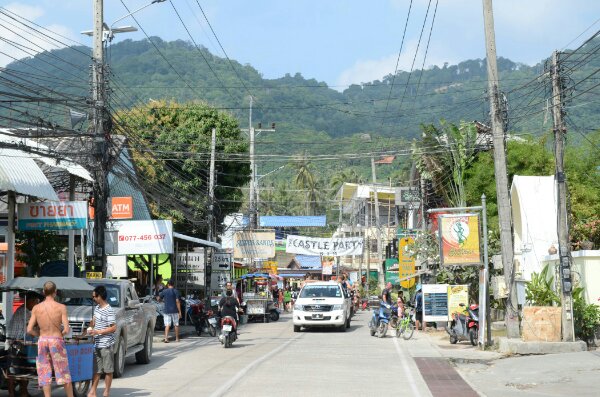 Many tourists come to the South of Thailand not necessarily to discover the Thai culture but rather to enjoy the amazing beaches, weather, scuba diving & all for relatively small money! It is no wonder that you can find here more western than authentically Thai restaurants.
As an everyday meal we enjoyed fresh grilled fish and veggies.
We have also tried highly recommend Thai restaurants such as The Gallery where I got a delicious coconut curry soup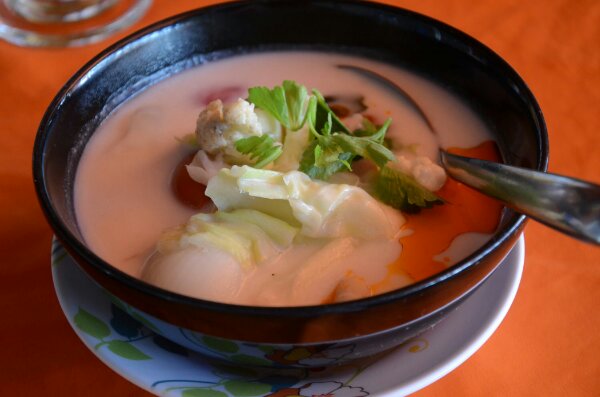 and F. tried spicy large sea prawns.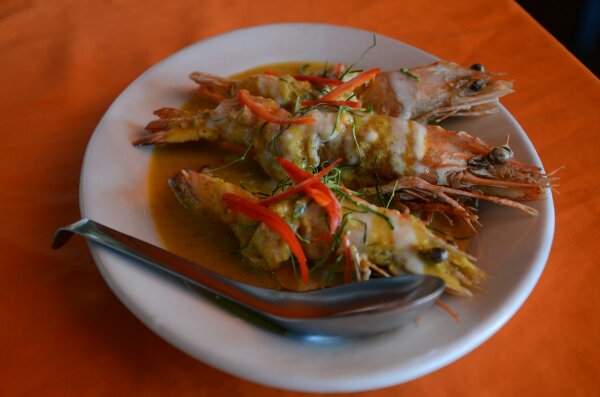 We also loved the Barracuda restaurant where we had a beautiful seafood plate. Usually I'm not a big fun of seafood but here it was so fresh and delicious (not stinking at all!) I would love to have it again!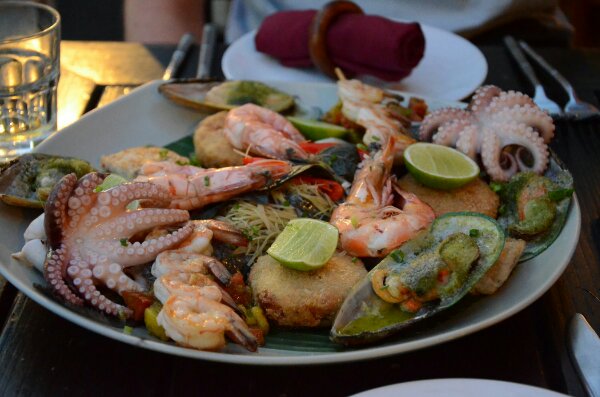 Every evening, after dinner we spent time on the beach drinking cocktails.
During our last night on the beach there was a full moon. We sent our wish with a paper lanterns to the ocean.
Besides eating we've spent one day on a snorkeling trip. Definitely something not to miss! If we would have a bit more time we would definitely take a diving cours (which are really cheap here!).
12 January 2014
Ferry to Koh Tao
We got up at 5am to get to the ferry. We were quite tired and there was no time for proper breakfast but otherwise everything went smoothly. We arrive to the ferry at a beautiful sunrise!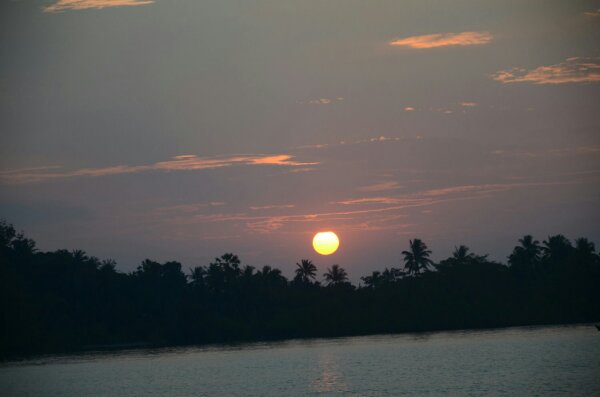 Two huge catamarans were already waiting for us and we got super places on the roof. Even though tired we were super excited that in 2h (is how much the ferry is suppose to take) we will start our lazy days on the Koh Tao and it's beautiful beaches!
Unfortunately, I got excited to soon. The sea conditions were bad and the trip took 1h longer. I got badly sea sick (as lot of others passengers). The good news was that we did not take the night ferry which I would quite surely not survive. 😛
After the horrible 3 hours on the boat we finely arrived to the breath taking Koh Tao. From the water it looked like a big green mountain surrounded by many fishing ships.
Already day before we called a well rated guesthouse to book our stay. We would probably find some better room by going from hotel to hotel but we didn't want to loose any of the precious time on the island. The Simple Life Guesthouse picked us up at the ferry and few minutes later we were in our room. Nothing extraordinary but it was OK (especially after we have changed our room for the higher floor). For a big, bright and quiet room with a pleasant view we paid 2500 Baht (around 55 Euros). The breakfast was included but it was so bad we ate there only once. We both really liked the very professional and friendly stuff. Changing room, sending the postcards or washing our clothes was very easy!
11 January 2014
From bus to bus & arriving to Chumphon
We got up early in the morning and decided to get out of this horrible place as early as possible. On our way to the Bus station we found a breakfast buffet at the Sakura Grand View Hotel. It was a good deal for 135 Baht per person (fruits, freshly prepared eggs, cooked vegetables, fried rice and noodles, etc. ).
First we took a 4h bus to Krabi.
Directly after a 3h trip to Surat Thani. And in the evening we took a train to Chumphon.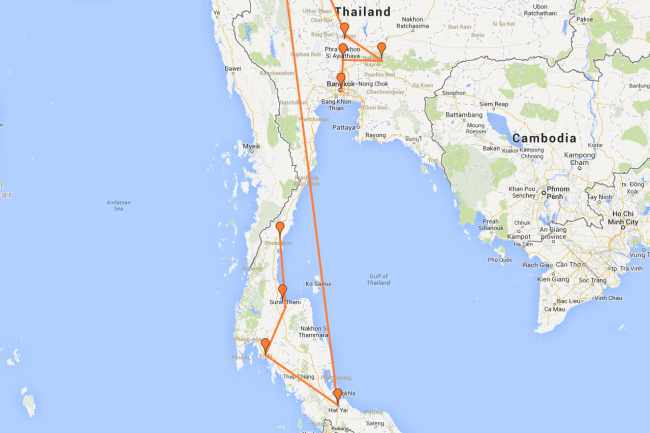 It was the least pleasant day of our trip! Sick of the dirty buses we started to regret taking the plane so far! Now, it seemed to be clear that a far better solution would be getting to the South by two night trains (passing by Bangkok).
We were truly exhausted. We decided to get to a little island Koh Tao and stay there four nights to be able to rest well!
Express ferry to that island leaves only early in the morning or at noon. There is also a night ferry with sleeping mates that is also cheaper. F. wanted to take a night ferry to get to the island as early as possible. I felt way to tired for such an experience right now. I also have read horrible stories about this night boat (that the sleeping mates are full of bags, that there is too many people and that not everybody finds a spot on the floor, that people get sea sick and puke all around…). In the end we booked a ferry next day at 7 am. We found a nice room very close to the train station from where we had to take a bus at 6 am to get to the ferry.
Food on Thai Trains 
Same as in buses you will never starve in a Thai train. Every now and then there is somebody passing to sell some fruits, cooked eggs, fried meat, dried fish, fried noodles or rice, drinks and many many others!
In Chumphon we arrived to the train station in advance and we could observe how all those snacks are prepared.
It looked like family members were having little cooking stands directly at the station. They had everything they needed to prepare they specialities. Some stands were more fancy and we're able to produce some kind of pancakes with bananas, egg or cream and sugar. Other had frying and grill section to prepare all kind of spring rolls and meat. There were also very simple one at which people were just slicing some fruits.
Everybody was working very quickly and smoothly until the train arrival.
10 January 2014
Back in Chiang Mai and taking a plane for the South
Directly after the breakfast we left Lampang in order to get our plane from Chiang Mai. Our bus ride went smoothly and we still had some time to enjoy Chiang Mai. We were really happy to find a charming place called Bamboo Bee Vegetarian – little vegetarian restaurant owned by Bee. She prepared all our dishes from scratch in front of us. Bee cooks with lots of heart! It's a shame we didn't meet her before- we would loved to join one of her cooking classes!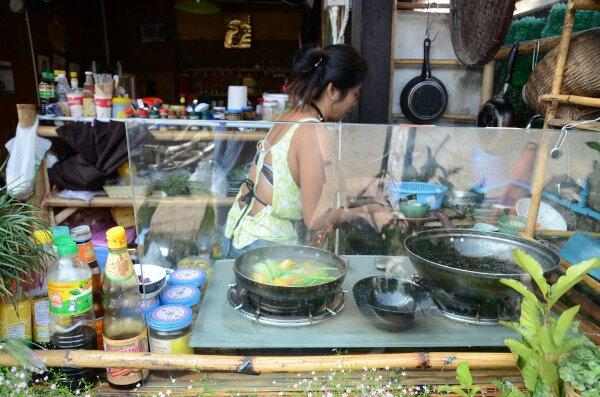 It was time for us to head to the South! Thailand is a really big (and long) country. Having only three weeks for our trip we didn't won't to spent too much time in travel so we decided to take a plane. Two hours trip from Chiang Mai to Hat Yai cost 8000 Baht (around 180 Euro) per person (with Air Asia). As Hat Yai is located quite far in the South we weren't sure if it's really a good destination. A flight to a much more convenient (& touristy) place (Phuket) was double as expensive so we sticked to the first option.
Getting to the airport was very easy. It took only 15min by Tuk-Tuk (80 Baht). We took the flight in the evening. We arrived to Hat Yai shortly before 10pm.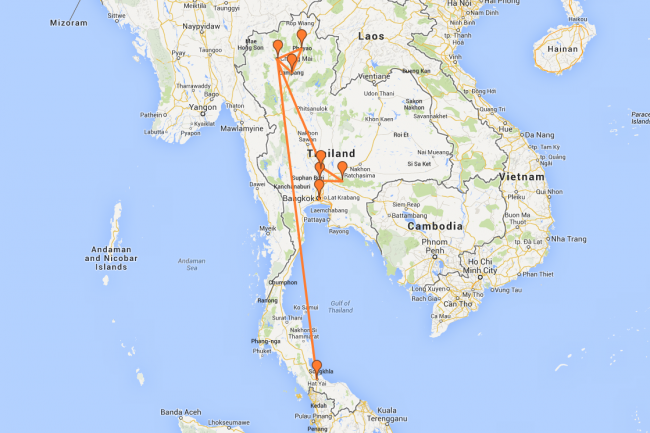 Our plan was to directly catch a bus to get closer to nice beaches. Transfer from the airport went smoothly (around 1h by minivan, 100Baht/person). Unfortunately, it was already too late and we had to spent a night in the city.
Even though I directly noticed a pleasant change of climate (I love when the air humidity is high!), Hat Yai is probably one of the ugliest cities we've visited! Not only dirty and sticky but also very expensive. The room prices are very high apparently because there is lot of tourist from Malaysia and Singapore passing by here. After close to 1h of looking we finally found a relatively clean room for 600 Baht.
9 January 2014
Lampang
We decided to get to the South by plane from Chiang Mai. We had still one night before our flight and we decided to visit Lampang located around 100km from Chiang Mai. After breakfast (we took our last opportunity to have the delicious grilled fish!) we took a cheap local bus.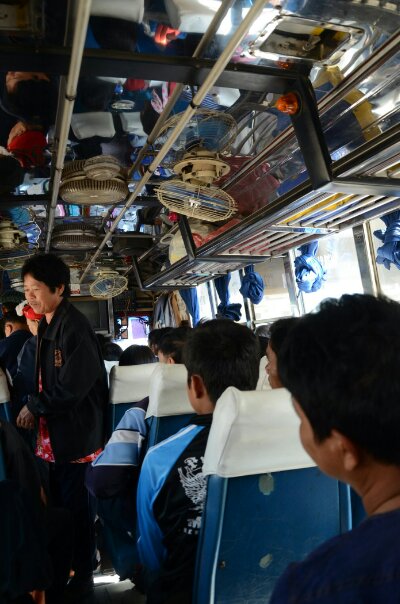 Lampang looks like a touristy city but somehow it wasn't very busy during the time we've been there. Lot of comfortable coffee houses and restaurants serving western food but they were all empty.
We've spent the afternoon trying different restaurants and relaxing. Unfortunately we didn't find any outstanding performance worth to recommend.
We were quite lucky with finding a guesthouse. An old Thai lady- the owner of Ton Nam Guest House – stopped us on our way to one of the most popular hostels. She offered us a beautiful and peaceful room in a wooden house for only 300Baht (less than 7 Euros). We had a very good night sleep!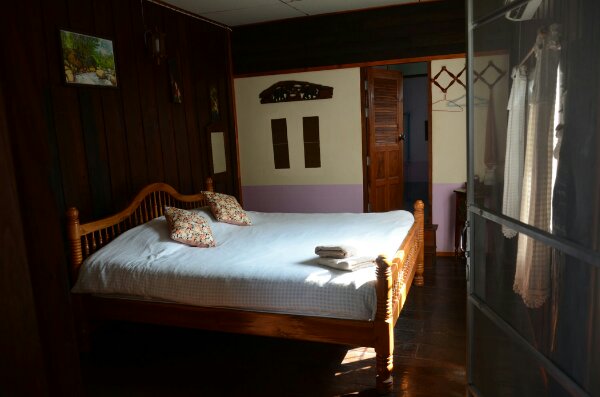 8 January 2014
2nd day in Phayao – city at the lake
First thing in the morning, we decided to find out where the delicious fish we ate day before come from! First, we went to the Phayao Street Market. It is rather stinky and with poor choice of fruits and vegetables (or maybe we've just arrived too late) but very quickly we found the fresh sea food and fish. Visiting this market is probably something to skip for more sensitive people as the sea animals (fish, turtles (!), etc. ) are often still alive…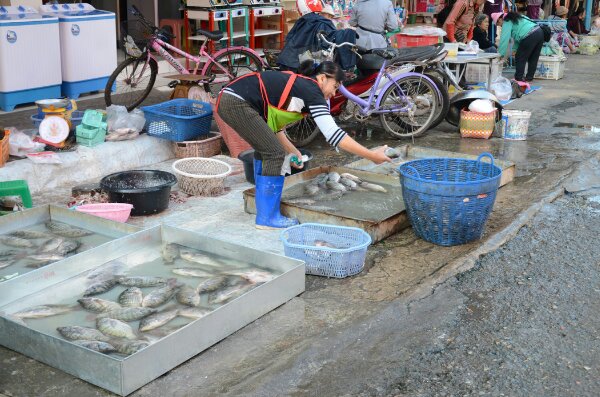 Next, we returned to the lace side to visit some of the restaurants that usually sell the grilled fish. We were really lucky because arrived just at the time when they were preparing the fish.
The Tiapia fish are just stuffed with Pandanus leaves and rubbed with thick grain salt, than grilled. So simple but delicious! There is not much of other good food in Phayao so we finished having this yummy grilled fish for breakfast and for dinner! Served with steamed rice (cost around 150Baht/less than 4 Euros).
In the afternoon we've visited the Sunken Wat located in the middle of the Phayao lace. To get there we needed to take a little boat. The 40Baht (less than 1 Euro) ticket included flours, candle and few incenses for the Buddha. We got big hats for the way to protect us from the sun. It was a short but pleasant trip! 😉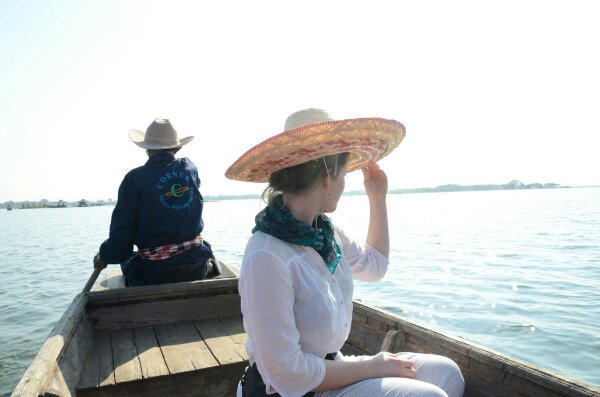 7 January 2014
Phayao – city at the lake
After a breakfast in Chiang Mai we took a "Green Bus" to Phayao (very comfortable bus. Around 2,5h drive, 250 Baht/person). The bus dropped us in the center of the city, where it was quite dirty and busy (like most of the cities in Thailand). We checked a hotel nearby that was considered the best choice by Lonely Planet. I think it had been one of the worst places I ever slept in, if we would have stayed there. I even told to F. that we should rather take another bus to get to a nicer city! It was around the noon – the hottest time of the day. Carrying heavy bags wasn't helpfully in decision making either. Luckily we choose to do a last effort before giving up with Phayao and try to get to the Lake. After around 25min walk we got to an amazingly pretty place. Beautiful Lake with mountains in the background. All along the water many little guesthouses and calm, simple restaurants. Now we finally understood why Phayao is one of the holiday destinations for Thai people!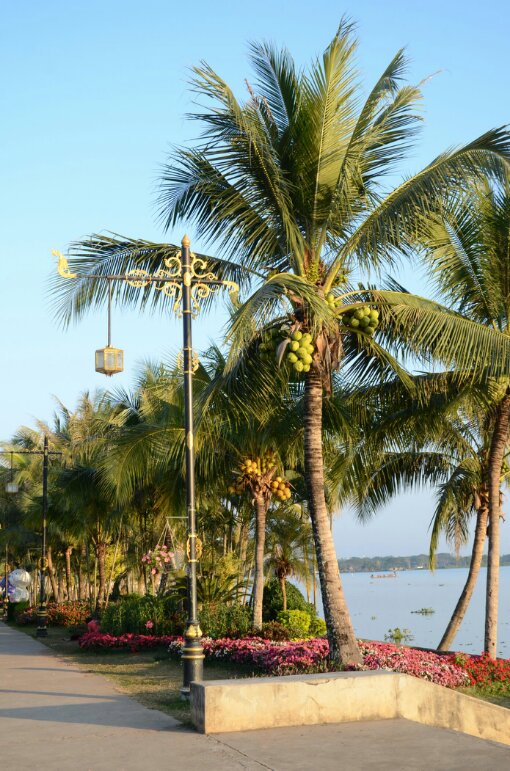 6 January 2014
Cooking Class in Chiang Mai
We took a whole day cooking course at Baan Thai Cookery School. Both of us had to choose 6 dishes we want to cook so in total we learned 12 new recipes! We were cooking in little groups of around 8 people (each dish=different group). Each of us had to prepare by him/herself one stir-fried, one curry, one soup and one appetizer dish. Together we've prepared a dessert and a curry paste. And of course we had to eat what we have prepared! 😛
We started the day with a visit on a street market. Our instructor told us about different vegetables and spices.
Eggplants (also the tiny one),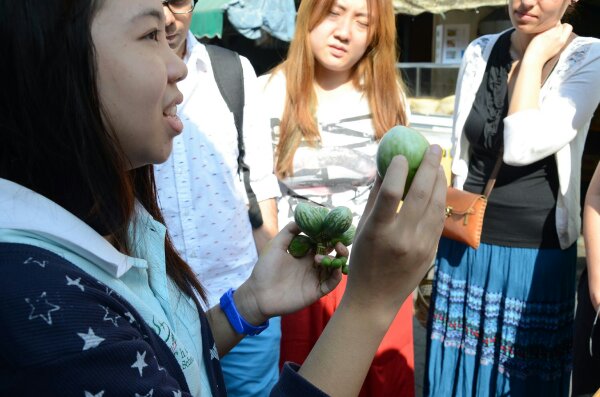 Sweet basil,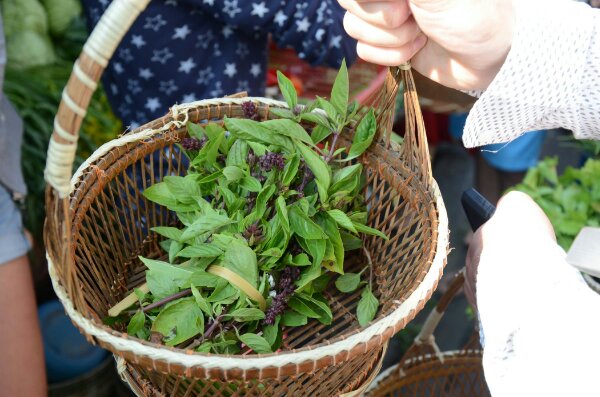 Cabbages (and many more).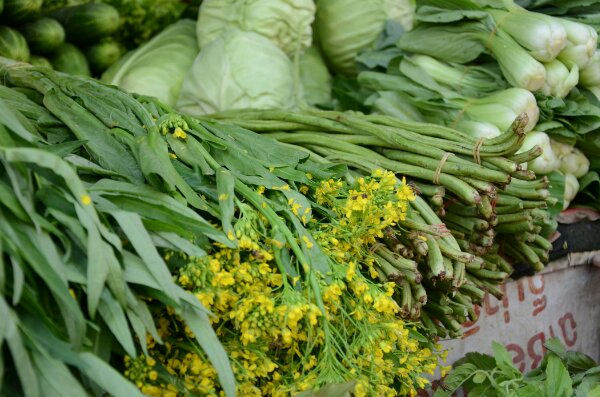 Next, the cooking started!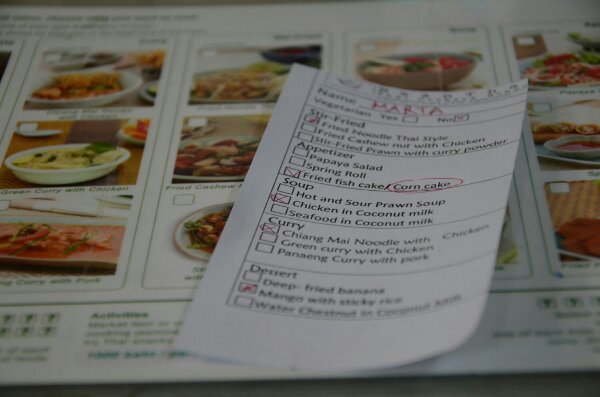 We learned about the different types of rice (here on the left the Sticky Rice, on the right jasmine rice).
Next, the cooking started!
Among others, we've prepared:
Stir-fried noodles,
Red Curry with fried noodles,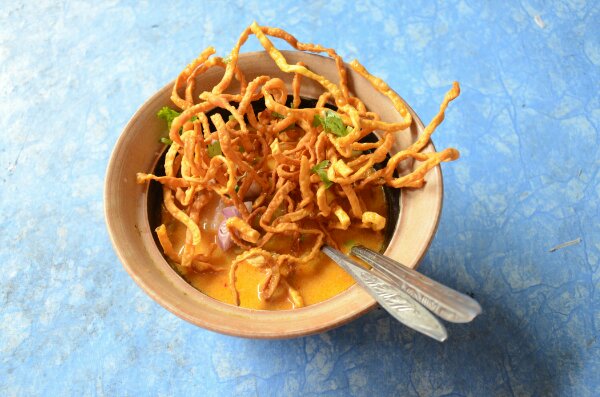 Coconut Chicken soup,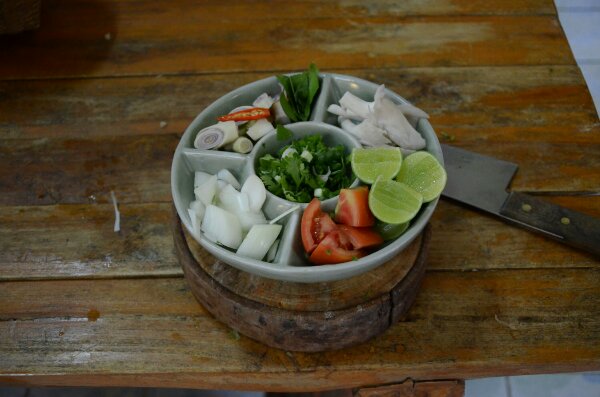 Red chili paste,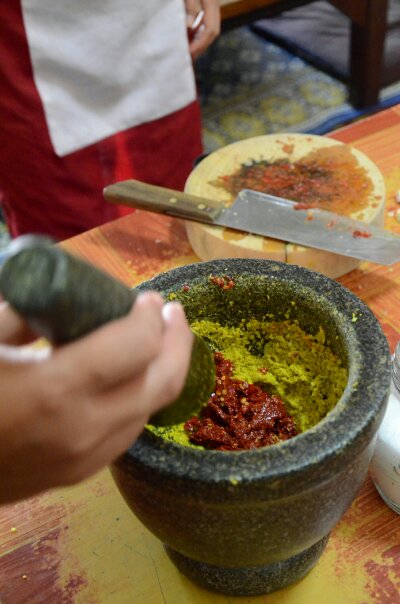 I also learned how to do the Sticky Rice in Coconut Milk with Mango!
We both really enjoyed the cooking and the eating part of the day! I can't wait to try these recipes at home and share them on the Travel4Taste.com!
5 January 2014
Chiang Mai
Since the very first minutes we knew that Chiang Mai is a touristy town. Tuk-Tuk drivers and guesthouse owners were hunting for the "white people" directly at the exit of the trains. It was the first time we felt we are actually visiting Thailand at the peak season. Before we found a place to stay we had to call around 5 different hostels that were already all booked out. We were probably quite lucky to get the last available room at the Safe House Court Guesthouse in the heart of the Old City. For a room with AC and hot water we paid 550 Baht (around 12,5 Euros). Our room was nice & clean. We also liked their restaurant (simple but nice!).
After a quick shower and a big breakfast at our hostel we were ready to check out Chiang Mai. The Old Town is where all the tourists are. Last days we were eating only with local people. Here we found plenty of Thai restaurants made for (local & western) tourists. We had to pay a bit more for food but we got in exchange much bigger choice of beautifully presented dishes! I didn't complain! 😉
We especially enjoyed the fancy restaurant called Hot Chili with a truly impressive interior design. We enjoyed the spicy food while seating on a swing!
Among others we have tried the spicy snack plate,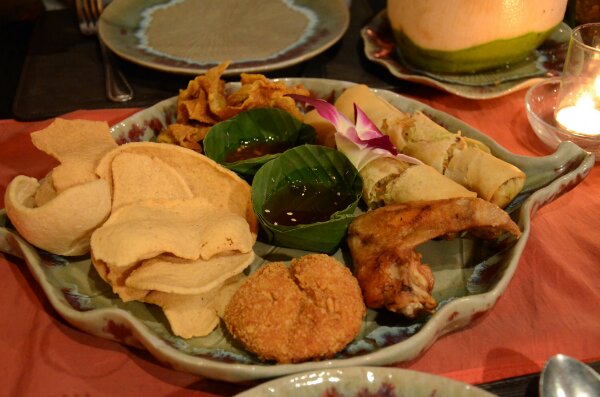 Sea food curry served in a coconut,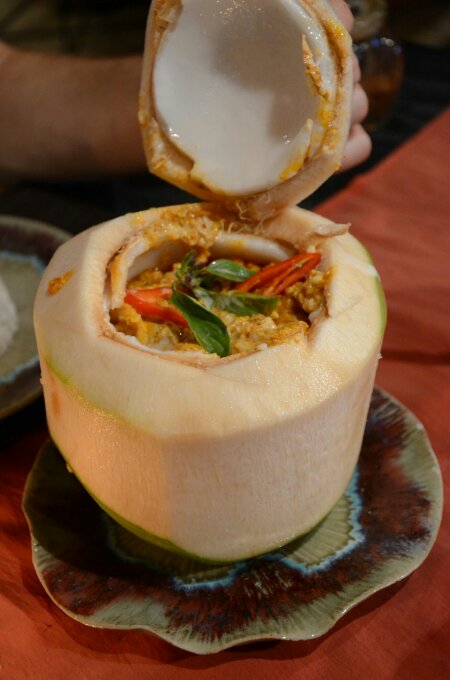 And my favorite sticky rice with coconut milk and mango!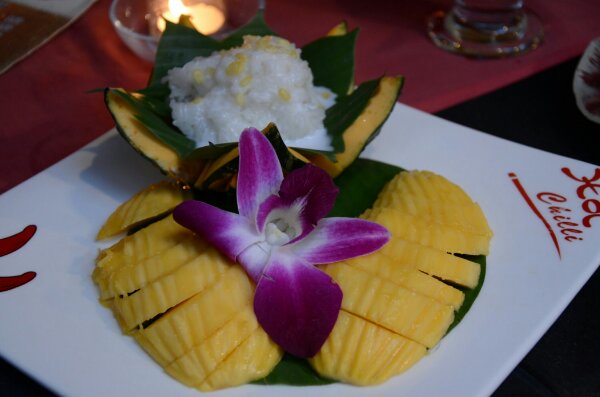 I also discovered there my new favorite cocktail: Mango Margarita. Hope I will be able to reproduce it back in Paris!
Chiang Mai's Old City is especially pleasant during weekends when some of the usually busy streets turn into Street markets.
It's also in Chiang Mai that we finally decided to have a massage! F. took a whole body massage and I decided to update my journal while enjoying a foot massage! Both lasted one hour and cost 150 Baht (around 3,5 Euros). Definitely worth to try!
Here a picture of different massage we saw on Ching Mai's streets.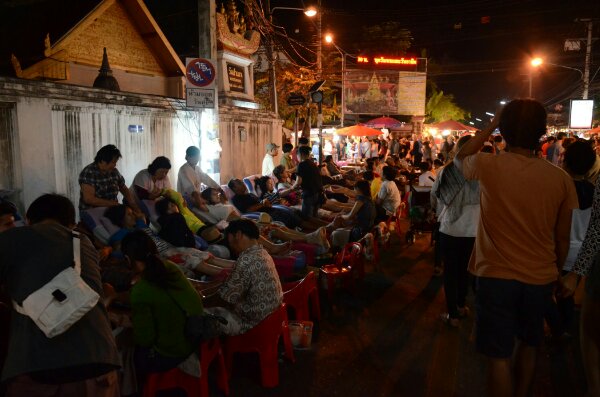 4 January 2014
Visiting Lopburi & taking a night train to Chiang Mai
We were really glad we stopped in Lopburi. Already in the morning we found out that the city is full of monkeys! Hundrits of them! Jumping on the roofs and electricity cords and stealing food.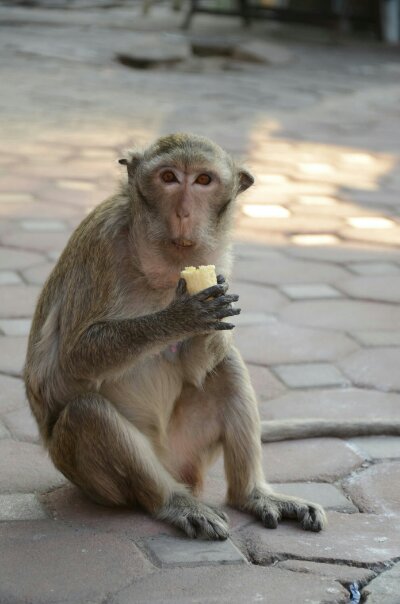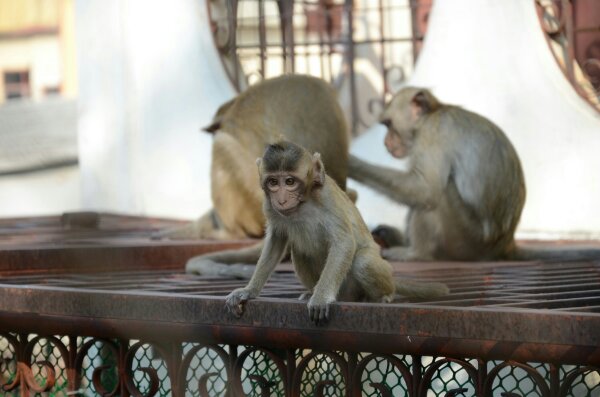 Lopburi is one of Thailand's oldest cities. We could admire the beautiful ruins of the ancient city.
Here the Wat Phra Si Rattana Maha that from XII century.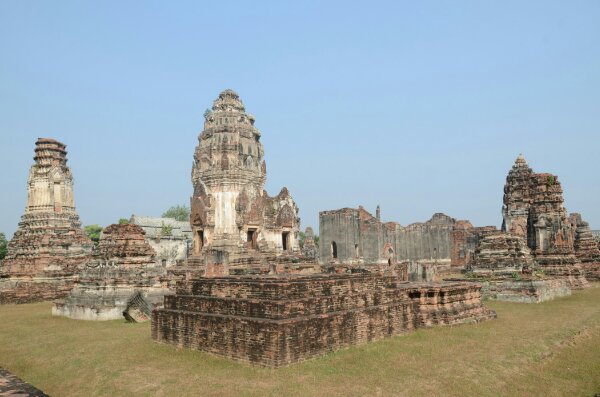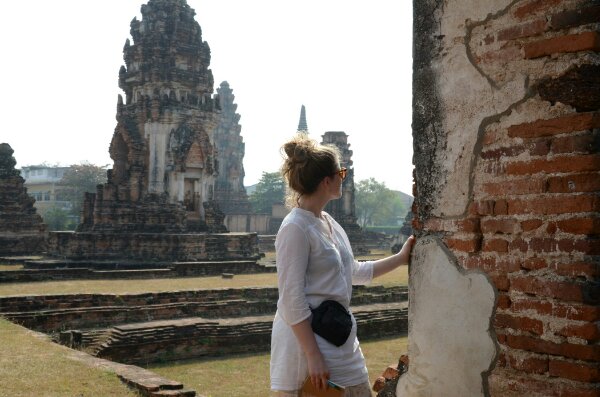 An amazing experience was to visit the Prang Sam Yot which is a home to hundreds of. Monkeys! (inside are also bats). We didn't really how to behave among such a big group of animals. They were all around us. On one hand we were scared because we knew that a monkey bite means travel to a hospital. On the other hand, especially the baby monkeys were incredibly cute. I went down and open my hand in front of one to see what will happen. The little monkey didn't think much and she climbed on me. I didn't expect that all other monkeys will take it as an invitation to jump on my! I got very popular. They were climbing on me from the back and it was really difficult to put them of! At all time I tried to keep my movements soft and do not show any aggression. It was definitely a very fun experience but I'm not totally sure if it was safe. If you ever try it I have one advice for you: keep away from the wet monkeys! Thy will make you really dirty!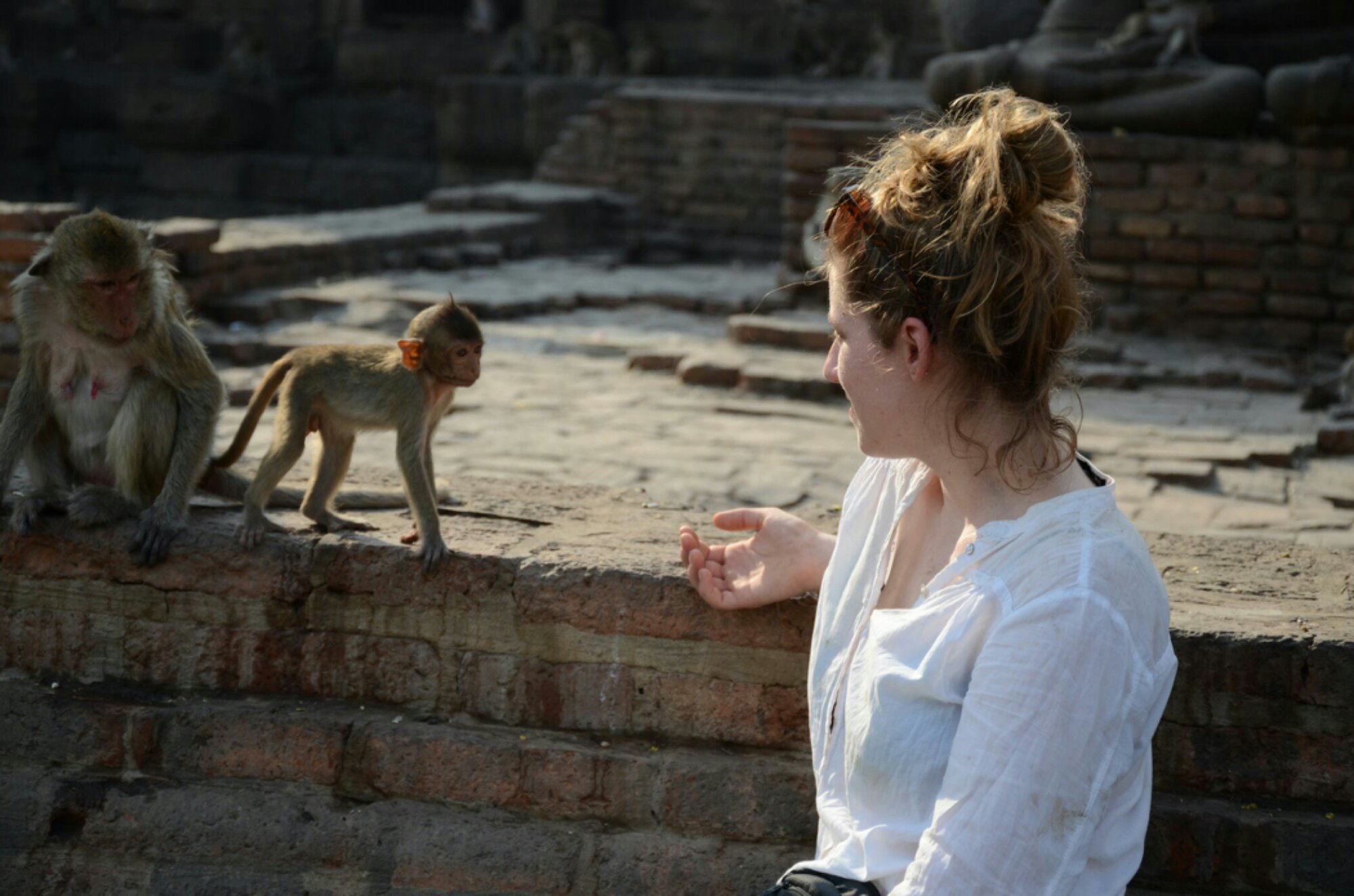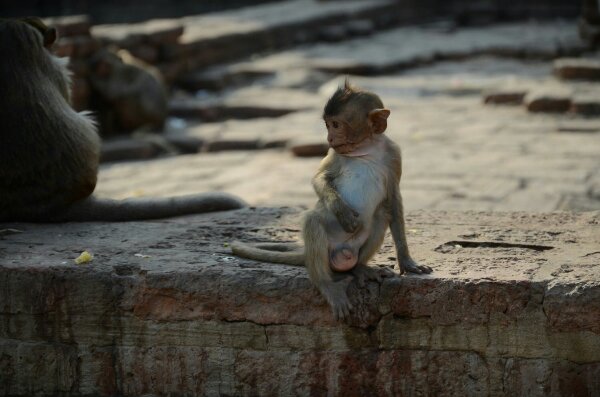 Lopburi is a very nice little city with surprisingly few tourists.
We ate at a little restaurant Thaisawang Suggested by the Lonely Planet guide. In my opinion the food itself wasn't especially good bit I really enjoyed the atmosphere of this place. As most of the places in Thailand this little restaurant is owned by a family. While eating we could observe the mother brushing hair of her little girl or two sisters playing. We enjoyed it. 🙂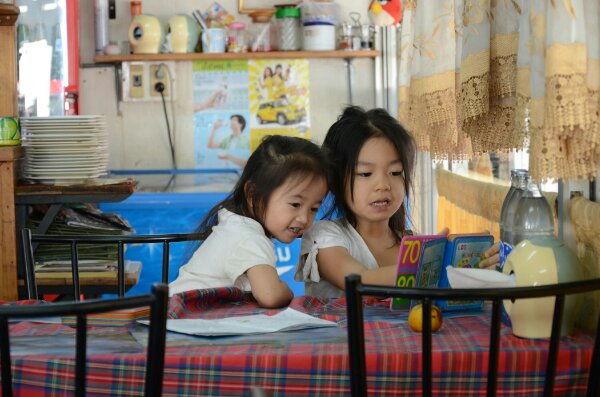 We also really enjoyed the visit at the local street market. We arrived there a bit late and it was already slowly closing up but it was still very nice.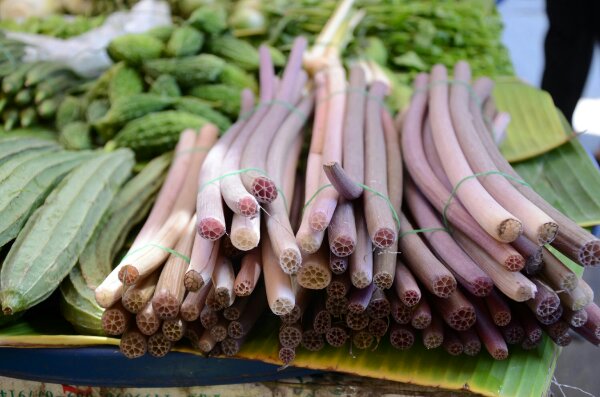 Banana rice steamed in a banana leaf,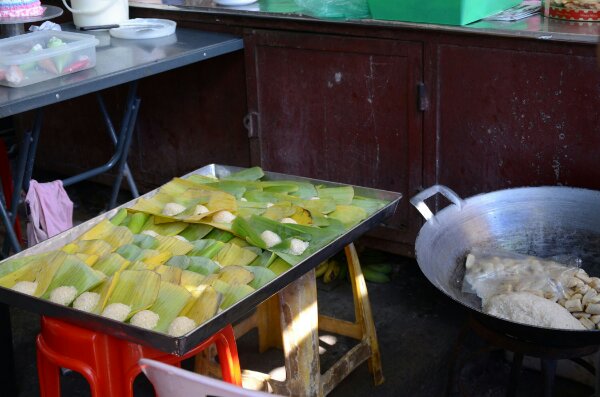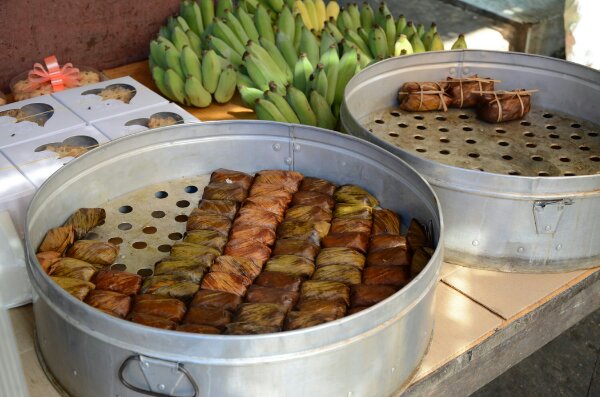 Young eggplants,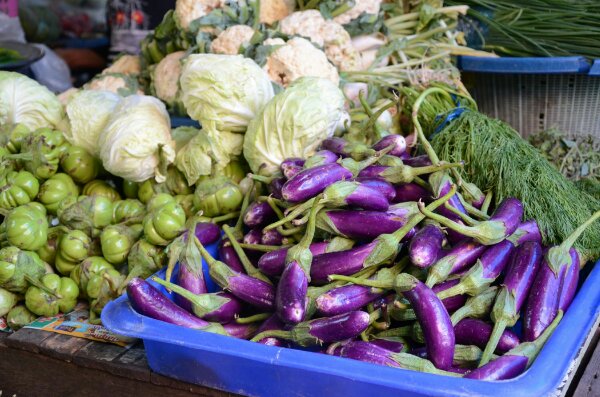 & very popular in Thailand dried shrimps.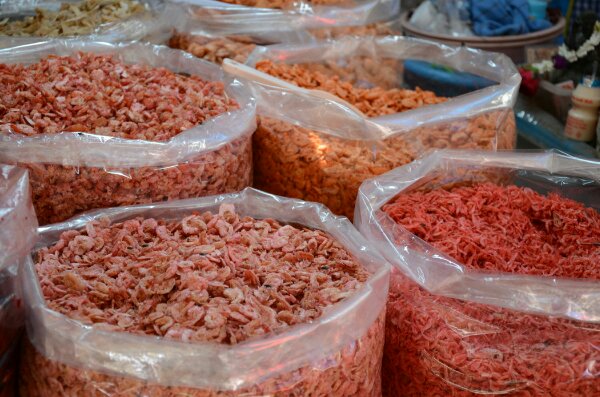 We really enjoyed our day in Lopburi, but it was time for us to take the night train to Chiang Mai.
It turned out to be a very good solution. We had a good night sleep and we woke up well rested in the North. The ticket cost 800Baht (around 18 Euros) per person which isn't that much if you take into account that you save money on a guesthouse. 😉
3 January 2014
Visiting Khao Yai National Park & Leaving Pak Chong
After quite a tough night we needed to get up early and take a cold shower. We had few minutes to grab some scramble eggs before 8am when we had to leave for the Jungle. We were in a little group with 3 more people. After around 30 ride on a back of a little jeep we had the fist stop to observe some birds, giant squirrels and gibbons. Our guide was really good in finding interesting things for us to see. He had a good Fieldscope he was asking for our smartphones to take pictures and movies for us. Here some of them:
A Giant squirrel,
A Gibbon on the top of the tree eating flowers,
Next, we had a 4h walk through the jungle to see some special plants (e.g. Cinnamon & fig tree) and some more animals. Our guide showed us also a scorpion. It seemed to us that it is his own but still it was fun because we could all have a picture with it ;). After all we are also tourists!
I especially enjoyed snacks we got during our trip. First a sweet little banana, then steamed rice with taro root wrapped in a banana leaf.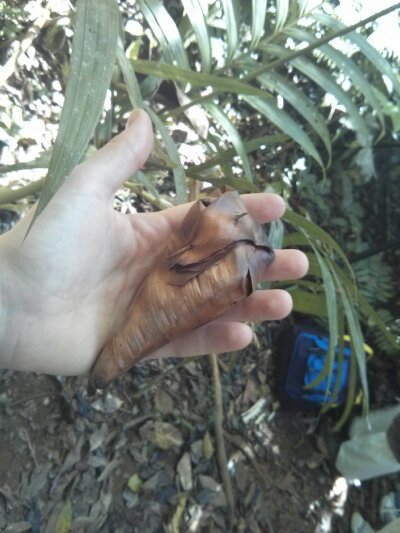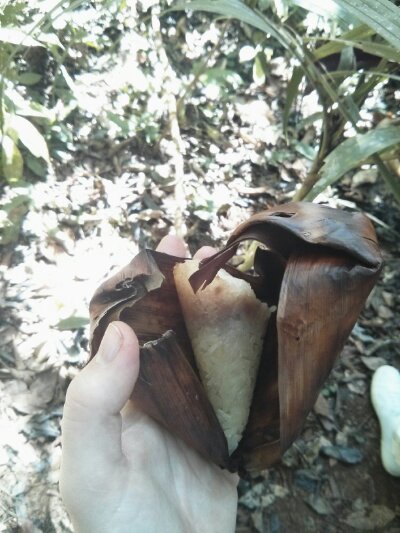 After a long walk through a jungle we arrived to a beautiful lake place we're we had the lunch (rice with vegetables and tofu). Just a 10min walk farther our jeeps were waiting for us. From now on there was no more walking (we all agreed the 4h was enough!). We had another 30mon stop at a waterfall place. It was already 4pm and we all were already quite tired. Last part of our tour was "hunting for the elephants". You don't see them everyday. During our trip to Sri Lanka we've seen lots of them. There it was much easier because the land was flat with only few small trees. It was easy to spot an elephant even from far. In Thailand we wre in real jungle. We knew elephants are really close, we could see them moving tree branches but it was really difficult to actually see one. With a great help of our guide and his fieldscope we were able to spot an elephant family hiding behind the bushes. To sum up, the "elephant hunting" was lots if waiting for really few we could actually see. When we headed home it was already getting dark. The way back took 1h and we got quite cold at the back of the windy jeep. We were all exhausted and super hungry after the full of excitements trip.
After visiting the National Park we wanted to get to the North, to Chiang Mai. We had 3 options: stay another night in Pak Chong and next morning leave to the North, leave still this evening and stop and sleep in another city on the way to Chiang Mai or take a night train to Chiang Mai. At first the last option sounded the best for us. While we were in the jungle one of the guesthouse owners went to the city to buy us tickets for the night train. Unfortunately, there was no sleeping beds available and he could reserve us only a seating place. The night train was leaving from Lopburi – city located around 100km from where we were. After getting back from the Jungle we had to leave within next 10min to catch a bus. There was no time to eat. We were lucky enough to get some Pad Thai noodles to take away.
To get to Lopburi we had to take two buses (each 50 Baht /person). It all went smoothly and we were in Lopburi shortly after 10pm. We were really tired after the Jungle and the bus rips and we didn't really feel like setting in a train for the next 13h! In the end we exchanged our ticket for a sleeping place in the train the next night.
Meanwhile, we had to find a place to stay. We called the closest hotel proposed by the Lonely Planet guide: the Nett Hotel. 10min later we were inside our room! To save some money we chose the simplest room with only cold water. It was a quite good deal for a price we paid (250 Baht/5.7 Euro).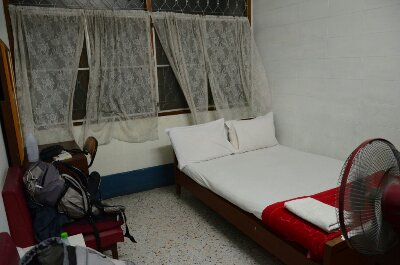 2 January 2014
Visiting the ruins of Ayutthaya's ancient cities and getting to Pak Chong near Khao Yai National Park
In the morning, directly after breakfast we rented two bikes and we went to visit some ruins of the ancient cities. In Ayutthaya there are many places where you can get a bike. It cost 30-40 Baht (less than 1 Euro) for a day!
We have visited only a few of around 12 Wats as we had a train to catch already at 1pm, so we focused on the Wat Mahathat, which is the largest Wat complex in Ayutthaya.
Next, we took a train to Pak Chong (again for under 100 Baht for both of us). The trip took something about 2,5h.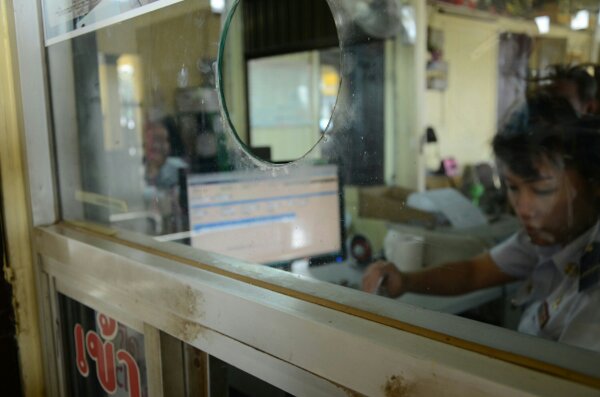 Already the day before we had called the Green Leaf Tour guesthouse that organizes trips to the Khao Yai National Park. The whole day tour cost 1300Baht (around 30 euros) per person, while the guesthouse offers very cheap rooms (200Baht/around 4,5 euros for a double room). Rooms are very simple but clean. There is only cold water. At this time of the year it is also good to have something warm to sleep. The guesthouse offers thin blankets but it is not enough. We were very cold during the night! They picked us up from the Pak Chong train station. It was about a 25min drive to get to the hostel. It is quite isolated so you are kinda forced to eat there. The choice is small but food is good. I especially enjoyed to observe how they prepare the dishes. The guesthouse is owned by a family and everybody is involved in cooking.
1 January 2014
Train trip Bangkok- Ayutthaya
After a big breakfast we packed our backpacks and we've decided to store them at the hotel while trying to get to one of the Bangkok's floating markets. Unfortunately, it wasn't possible. The most famous market (Damnoen Saduak) is located around 100km outside of Bangkok. We didn't have time for such a long trip because we wanted to leave Bangkok still today. There is another nice floating market a bit closer to the city but it is open only on weekends. I really hope to visit one of this places at the end of our trip, before we take our flight back to Paris.
We took a 3rd class rapid train to Ayutthaya located around 70km north of Bangkok . This town is famous for its ruins of the ancient cities.
In Ayutthaya, in order to get from the train station to the city center, we had to take a little boat. It costs 4 Baht per person per way.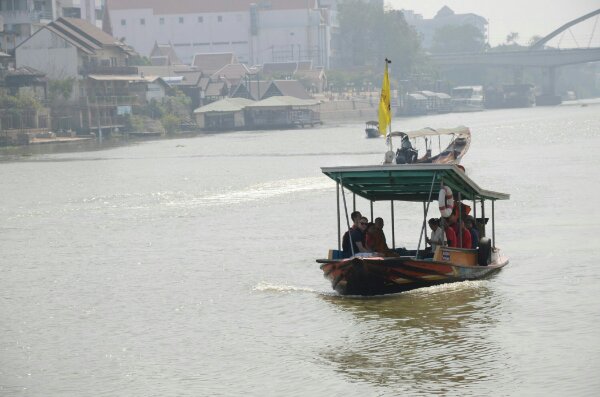 We stayed at a guesthouse called Tony's Place that is very popular among backpackers. Even though the accommodation is very basic this place has a very pleasant and friendly atmosphere. For a room with hot water we paid 350 Baht (around 8euros). Food at this place wasn't especially good. Many westernized versions are proposed. It is though cheap and comforting. A portion of Thai fried noodles with vegetables cost under 100 Baht (around 2 euro).
We arrived at the place in the afternoon and we decided to have a lazy evening and rest a bit.
Here our hostel,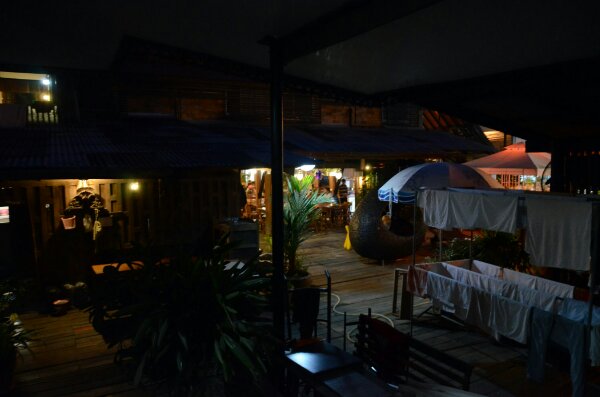 And here my favorite Pad Thai (fried noodles with vegetables).
New Years Eve
In Thailand people celebrate new year (Songkran) in April. Surprisingly for us streets were full of celebrating people. Having still quite a jet lag we've decided to spent New Years Eve over a couple of Thai beers in our hotel room. We were even able to enjoy some fireworks!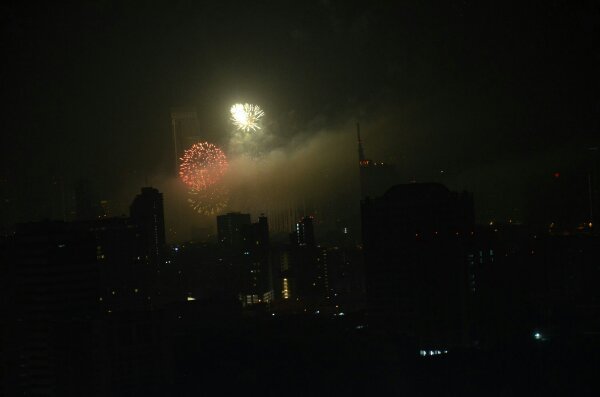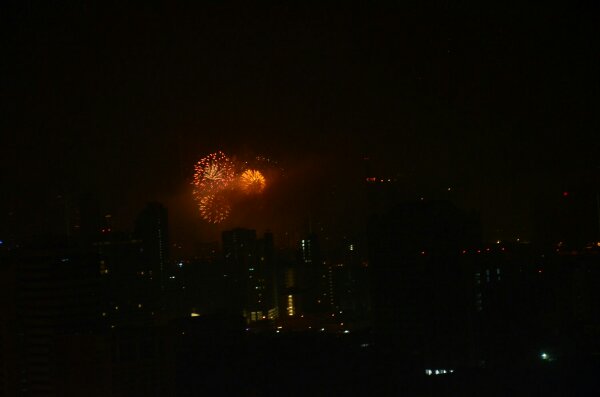 31 December 2013
Visiting Bangkok's Chinatown & Wat Pho
During the second day in Bangkok we wandered a lot on their numerous markets. We especially liked the Chinatown. The Sticky Rice in Coconut Milk with Ripe Mango is just Amazing! So far, my favorite Thai dessert (and dish in general!). Right now, I feel I could have it everyday!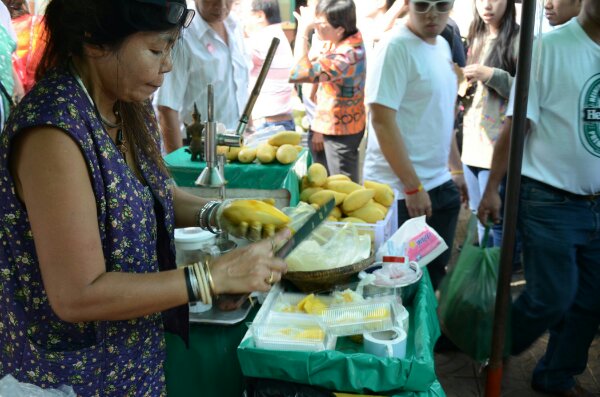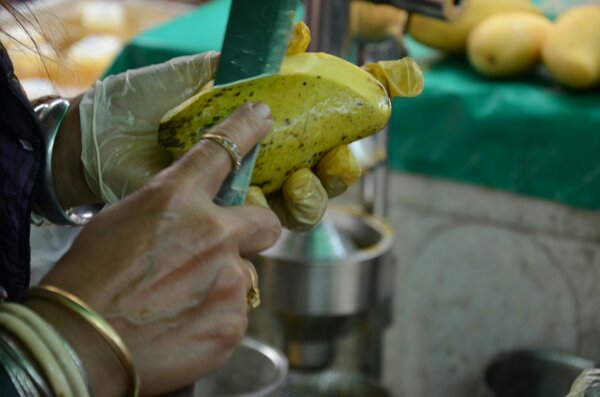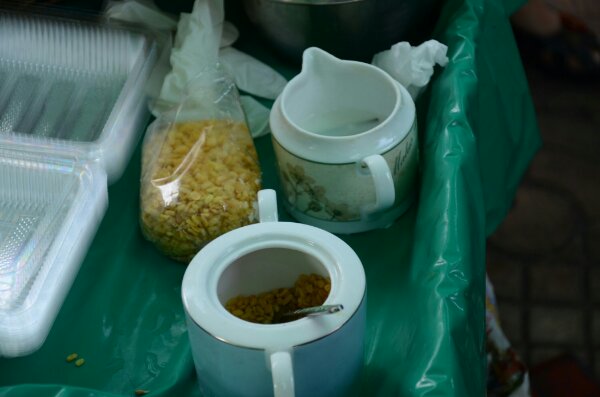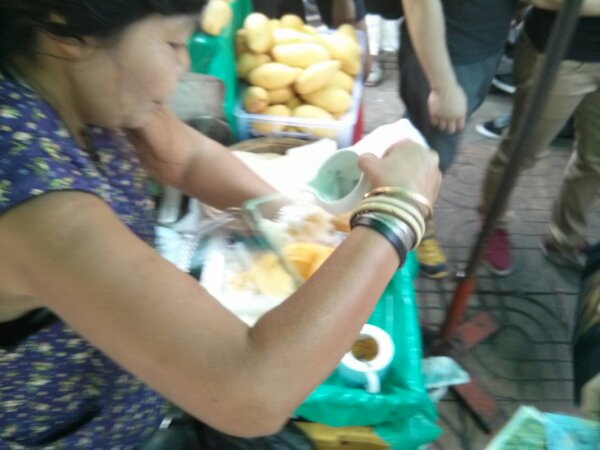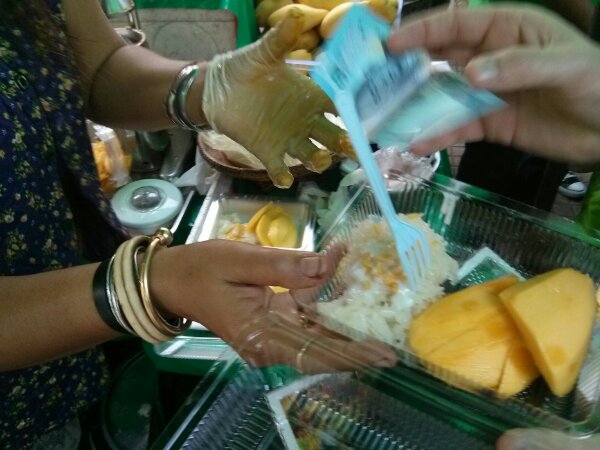 Beautiful colors & smells make you want to try all of the dishes proposed by street peddlers. And there is lots to try!
Refreshing coconut milk,
spring rolls,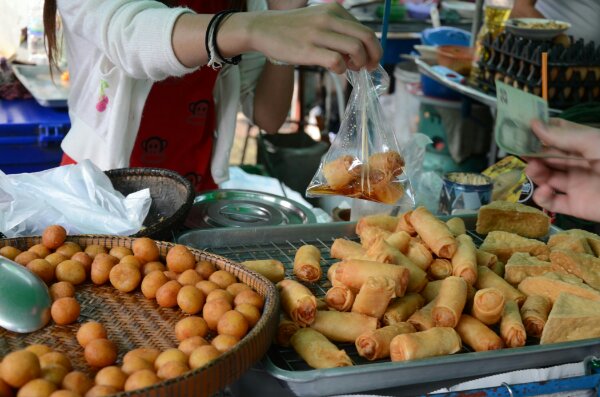 roasted bananas,
fresh fruits,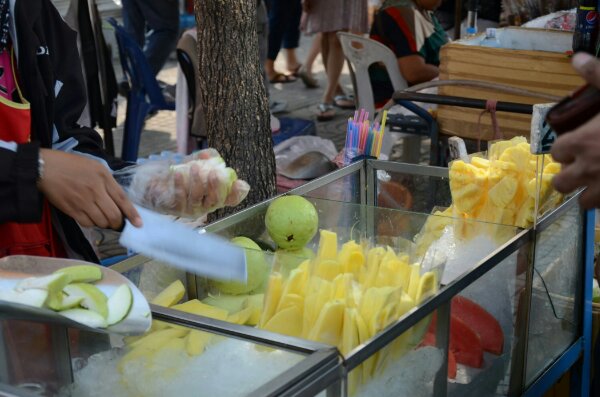 freshly squeezed pomegranate and tangerine juice,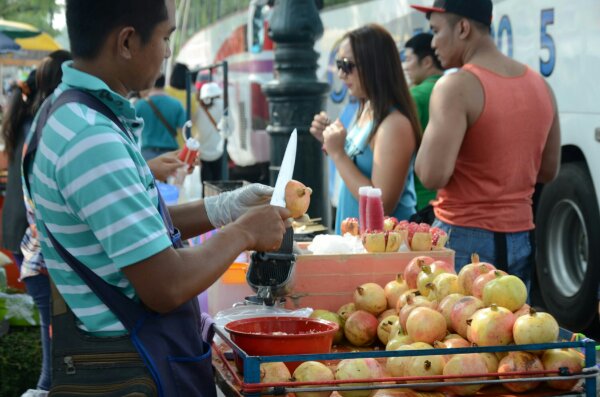 grilled meat and sea food (here are the grilled squids) and many others.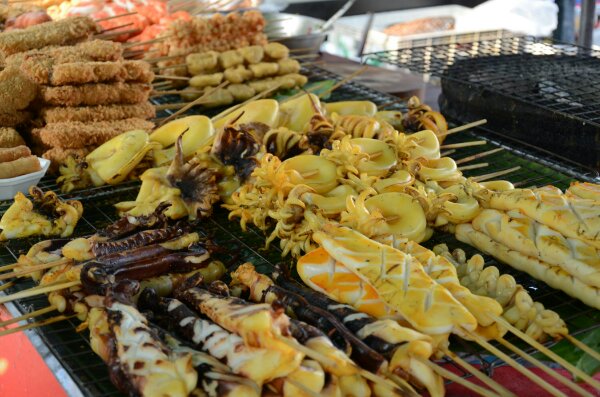 Still on the same day we have also visited one of the Bangkok Wats (temples): the Wat Pho. It is Bangkok's oldest and largest temple.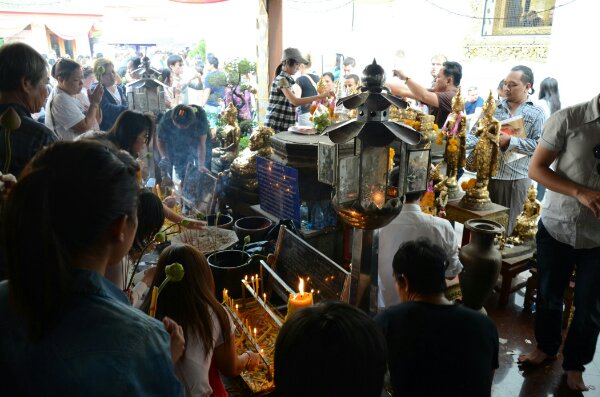 In Thailand people decorate Buddha statues with gold leaves.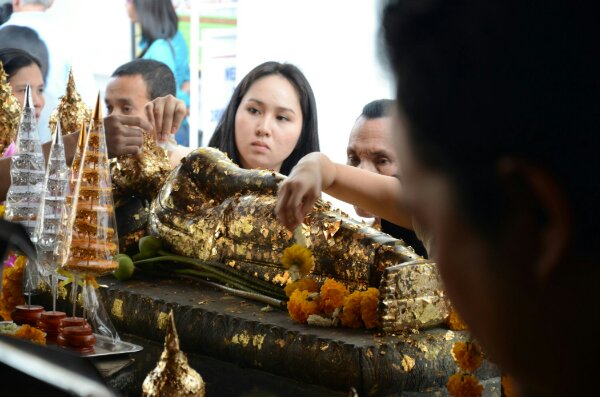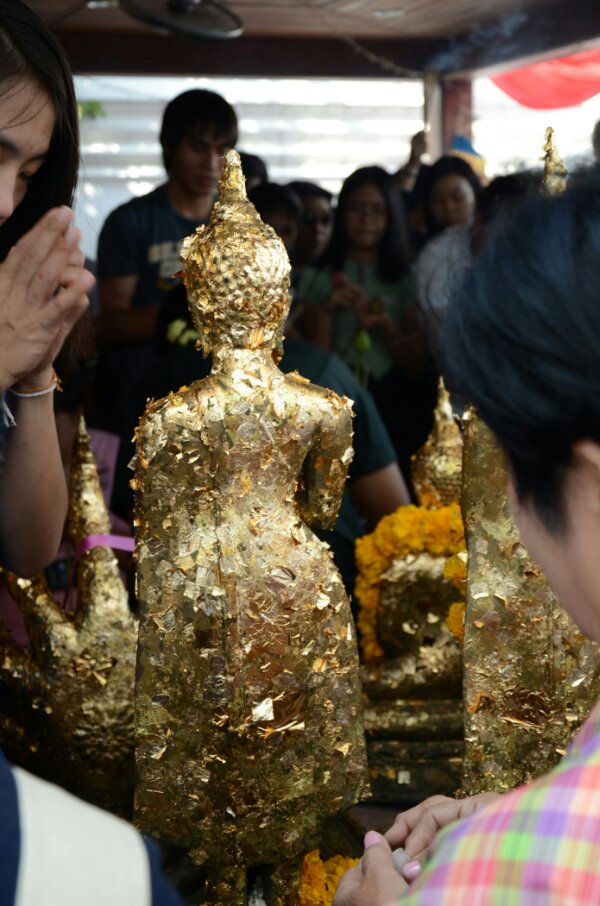 30 December 2013
We have arrived to Bangkok. Already two months in advance we have reserved a hotel located downtown. This is a very modern area full of skyscrapers. We though it will be fun to spent New Years Eve with a view on this exuberant metropolis. We found a good offer and for two nights + breakfast buffet + pick up from the airport for both of us we payed 220euros (9000 Bahts + taxes). After booking our hotel over the phone and having minor problems with the Thai English accent, we weren't sure what we would get. But the Grande Centre Point Hotel Ratchadamri turned out to be everything we had been looking for. Comfortable beds to rest on, delicious food and incredible views.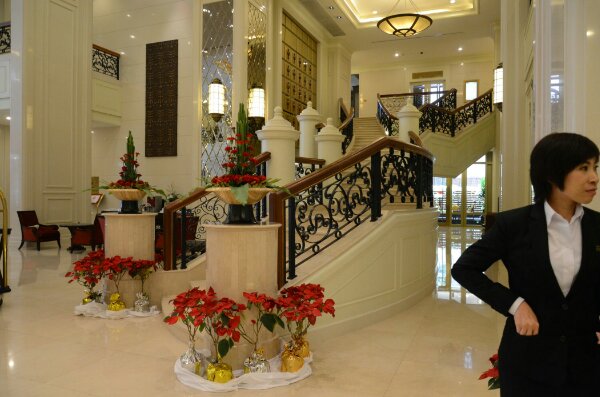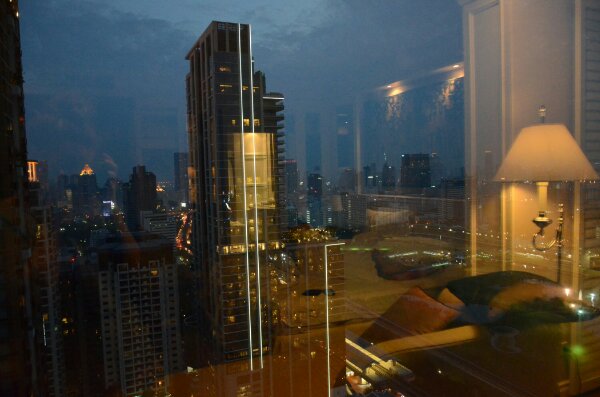 29 December 2013
12 hours flight Paris-Colombo and then still 4 hours Colombo- Bangkok was quite a challenge. Already last year for our Sri Lanka trip we chose Srilankan airlines. We liked it so much that we decided to flight with them again. We weren't disappointed. The stuff (wearing traditional Srilankan clothes) was incredibly nice and comforting.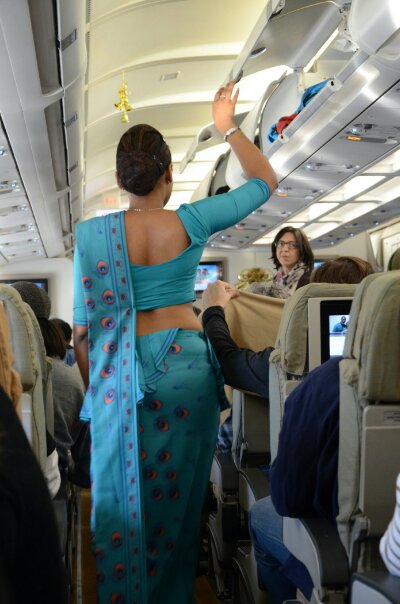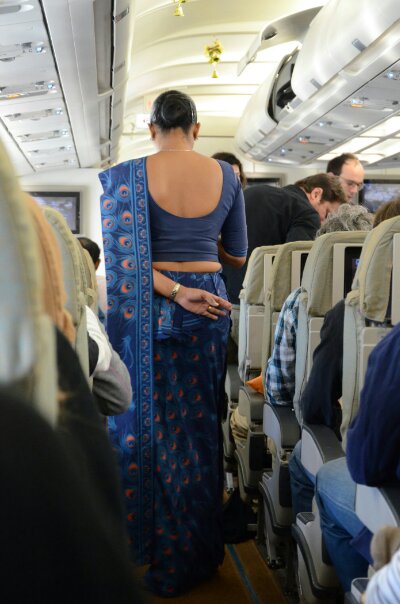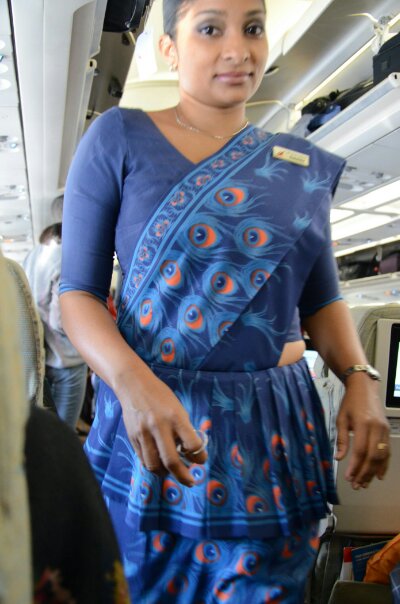 And, what is also very important, the food on board was really correct!
On the plane to Colombo we had an aperitif and 2 dishes. There were always three choices (one vegetarian).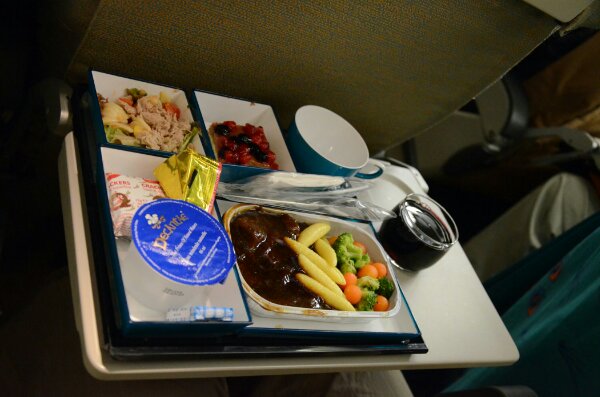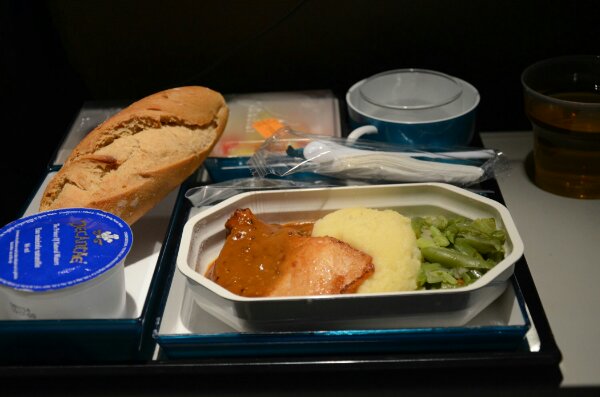 In the second second plane we had an asian breakfast.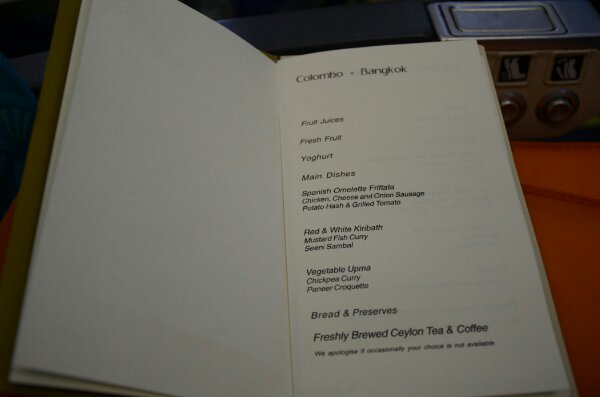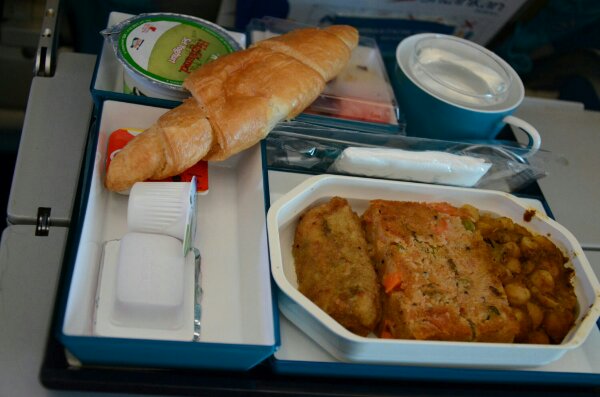 ---
---