Butter Cookies (VIDEO)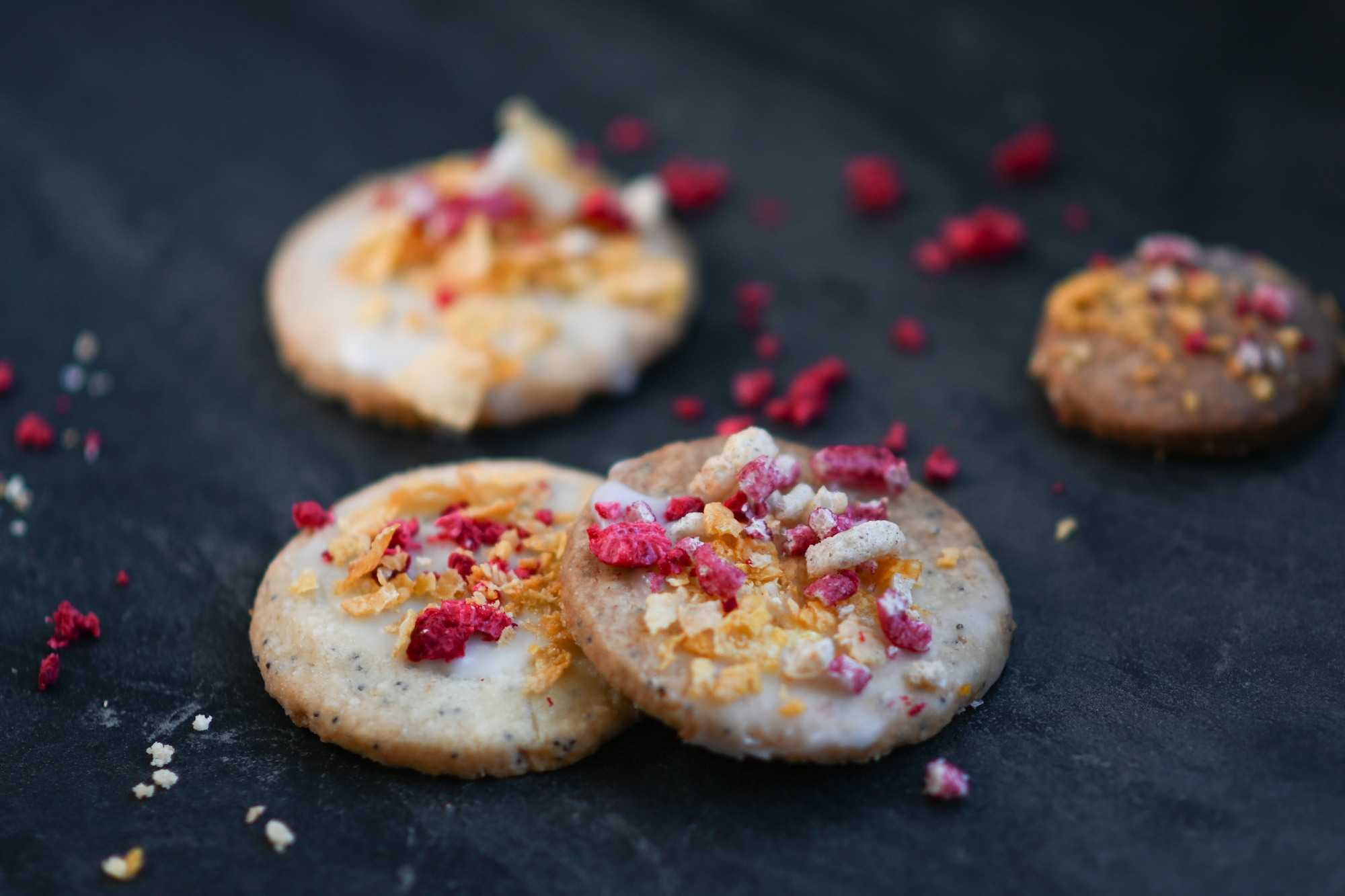 This is my favorite Cookie recipe to make with Kids! The dough is soft and elastic so the little ones can easily cut out shapes or make little balls out of it. My toddler especially loves to decorate them (watch my VIDEO to see how we do it ♥)
These cookies are eggless so perfect also for children with allergies.
INGREDIENTS:
♥ 100g soft, unsalted butter
♥ 1 cup (130g) all-purpose flour
♥ 3 tablespoons (30g) cornstarch
♥ 3 tablespoons (45g) sugar
♥ 1/2 teaspoon salt
♥ zest from half a lemon
Optional:
♥ 1/2 tablespoon poppy seeds
♥ 1/2 tablespoon cocoa powder
Decoration:
♥ 2 tablespoons icing sugar
♥ 1-2 teasspoons lemon juice
♥ crushed cereals, dried berries…
It is important that the butter is soft (at room temperature) to the point that you can easily work it with a spatula. I sometimes put it in a microwave for few seconds.
Add sugar, lemon zest and salt and combine it with the butter.
Next, add corn starch and flour. Keep working the dough with a spatula until it starts to come together and crumble. At this point transfer the dough onto a clean surface and knead it with your hands until the dough is smooth. It is very soft and easy to work!
You can directly start making cookis! My boy loves to roll little balls out of it, and then you can flatten them using a cup powdered with some flour to prevent sticking. Another option is to roll the dough our and cut out some shapes. If you don't own cookie cutters you can simply use a glass.
Once your cookies are ready, leave them in the fridge (or in another cold place such as the balcony during winter) for at least 30 minutes. Thanks to this the cookies will turn out crispier ♥
To decorate the cookies you can use what you have at home: some dried berries, muessli, baby cereals,or cornflakes. Crush these into little pieces so that they are perfect for cookie decorating.
As the "glue" use mixture of 2 tbs of icing sugar and 1-2 teaspoons of lemon juice. Have FUN ♥
---
---