Walnuts cake with ricotta, mascarpone and pears.

Most probably France is a country the most famous for it's cheese. Everybody knows french Camembert, Brie, Roquefort… We shouldn't though forget that Italy also has its famous cheese such us delicious Mascarpone and Ricotta.
I found recently, in one of Polish cooking magazines, a recipe that uses both of these Italian types of cheese. At first it appeared to me as a too difficult one but I couldn't resist this composition of walnuts, pears and Mascarpone-Ricotta cream! And it work perfectly at the first try! Maybe the recipe is a little bit more complex it is definitely not complicated!
[facebooklike]
For a round cake (22cm of diameter):
Cake:
♥  50g walnuts
♥  25g flour
♥  25g sugar
♥  8g vanilla sugar
♥  40g butter
♥  2 white eggs (around 60g)
Cream (all ingredients should be well cooled down):
♥  200g peeled pears
♥  2 spoons of normal sugar
♥  2 spoons icing sugar
♥  25g mascarpone
♥  100g ricotta
♥  50mL cream (at least 30% fat)
1. Roast walnuts in the oven for 5-8min at 180'C (do not burn them!)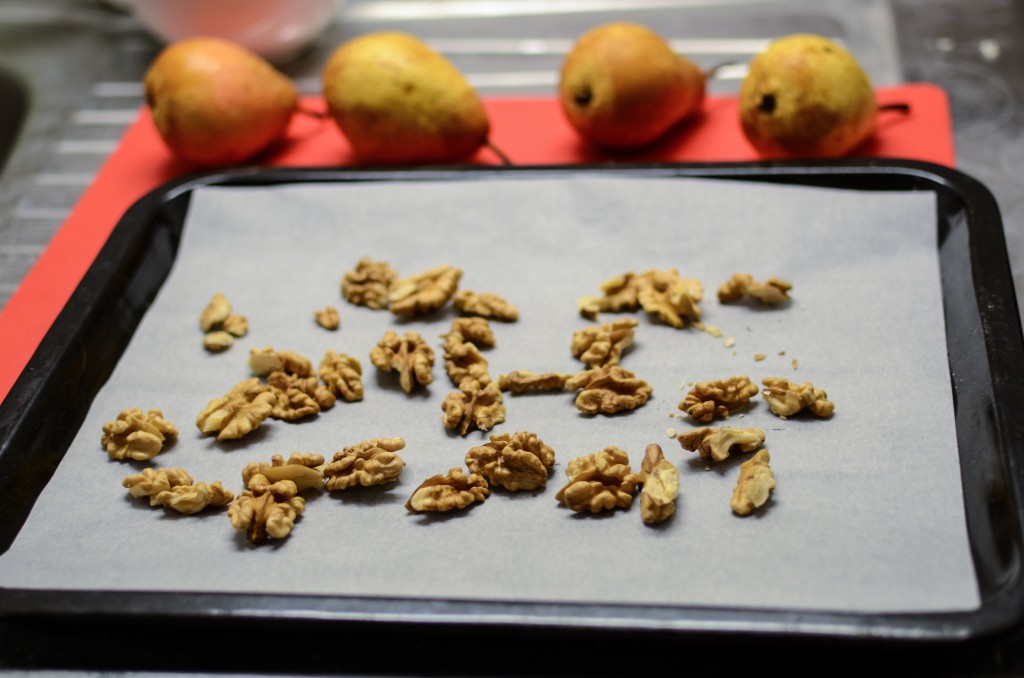 2. Grind the roasted walnuts.
3. Connect together walnuts, sugar, flour and butter.
4. Beat eggs white and add them to the dough.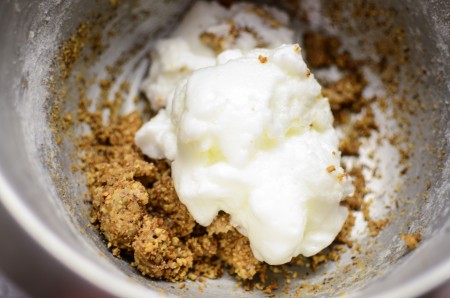 5. Mix together all ingredients using a spoon (it will be quite liquid- it's normal).
Pour the dough into a round form (I used 23cm diameter one but it can be slightly smaller).
– If you are using a metallic form you might put on the bottom a circle cut from baking paper so it's easier to put the cake out after backing (no need for that if you use a silicone form!)
6. Bake it for 15-20 min at 180'C. After this time, leave it in the form to cool down a bit before trying to put it out.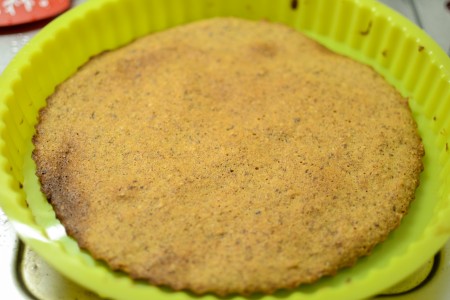 7. While backing: Put cut into small pieces pears with 2 spoons of sugar into a pan and cover it. Stew them for 15min. Then cool them down. (In order to quickly cool down pears, I like to put the pan into cold water bath).
Now let's do the cream!
– Remember, all ingredients should be cooled down.
8. First beat the cram. It's ready when instead of being liquid it's rigid.
When cream is ready, add mascarpone and ricotta.
You need to add it little by little while mixing all the time. It mix very well.
Now you need to add pears (WITHOUT syrup that was formed while stewing).
Mix again everything. It is ready!
9. Now decorate the cake with the cream.
And it's ready!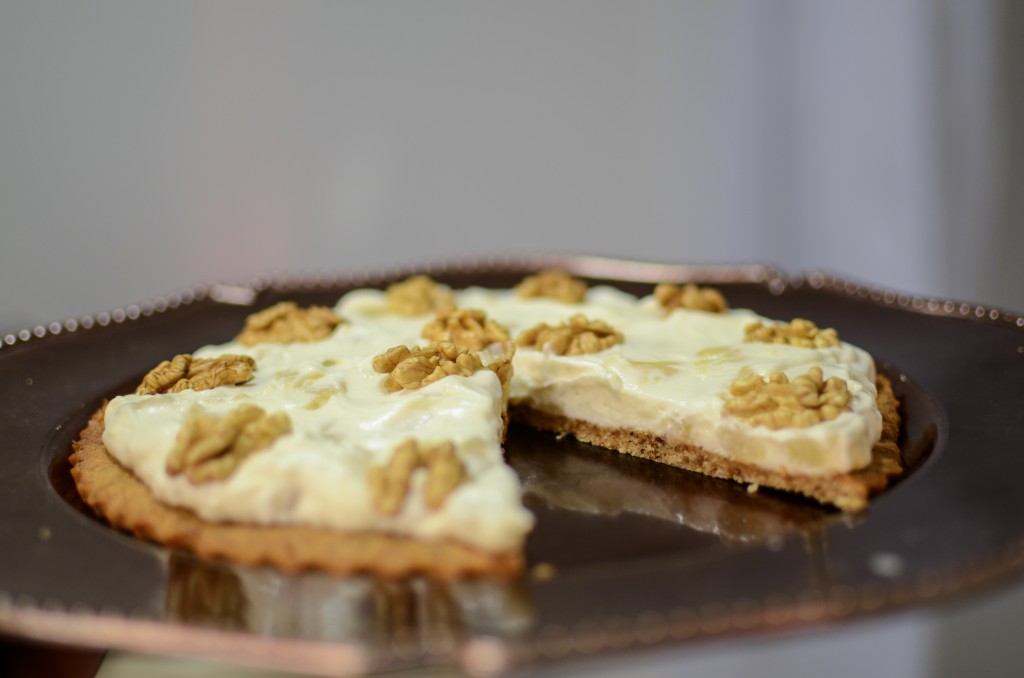 ---
---