Polish Croquettes with Vegetables

Here I would like to present you how to do Polish croquettes with vegetables (those with meat are probably more popular in Poland, but I prefer these with veggies 😉 )
What you will need to do is simple. First you prepare the crepes and you fry some vegetables. Then you need to roll the vegetables in a crepe and fry it. 🙂 Ok, It might be not the lightest dish in the world, but if you eat it with the beetroot soup (which has almost no fat!) it is OK once in the while. 😉 😀
[facebooklike]
For around 10 croquettes:
Crepes:
♥  160g flour (1 glass)
♥  500g milk (2 glasses)
♥  2 eggs
♥  oil (eg. sunflower oil)
♥  pinch of salt
Vegetable filling:
♥  1 Leek (can be replaced with a big onion)
♥  2-3 courgettes
♥  10 champignons
♥  1/2 spoon of freshly ground pepper
♥  pinch of salt (or 2, to taste)
♥  olive oil
Breading:
♥  brad crumbs (grated dry bread)
♥  1 egg
♥  1 spoon milk
1. Slice all vegetables and put them in a frying pan with a bit of olive oil. Keep the heat medium and stir from time to time until they get soft. It should take 10-15min. In the end add spices to taste.
2. While vegetables are getting ready start with preparing crepes. Mix together flour, milk and eggs (you can use a blender).
3. Put a drop of oil on a hot pan (a bit more than medium power). The best is a flat pancake pan. As soon as the oil is hot, put appropriate amount of crepe dough. You want your crepe to be very thin.
4. After around 1min the crepe will start to be done enough to be able to flip it on the other side.
4. Now, when the crepes and vegetables are done, it's time to roll! 😀 Follow the instructions on the pictures below. 🙂
5. Prepare two bowls or deep plates. In one beat the egg with milk. In the other one put the bread crumbs. Each crepe roll needs to be first dipped in the egg and then coated with the breading.
6. Put it directly on hot frying pan with (deep) oil. Fry in each side until golden-brown. When ready, put them out on a plate with paper towel that will remove the excess of the oil.
7. Serve the croquettes hot! They are deliciously crispy and spicy. Goes really well with the beetroot soup! Enjoy! 🙂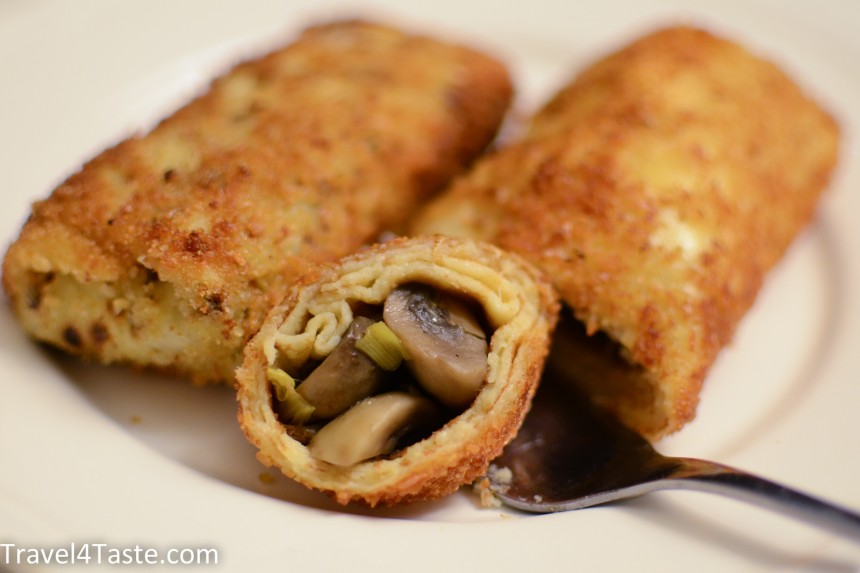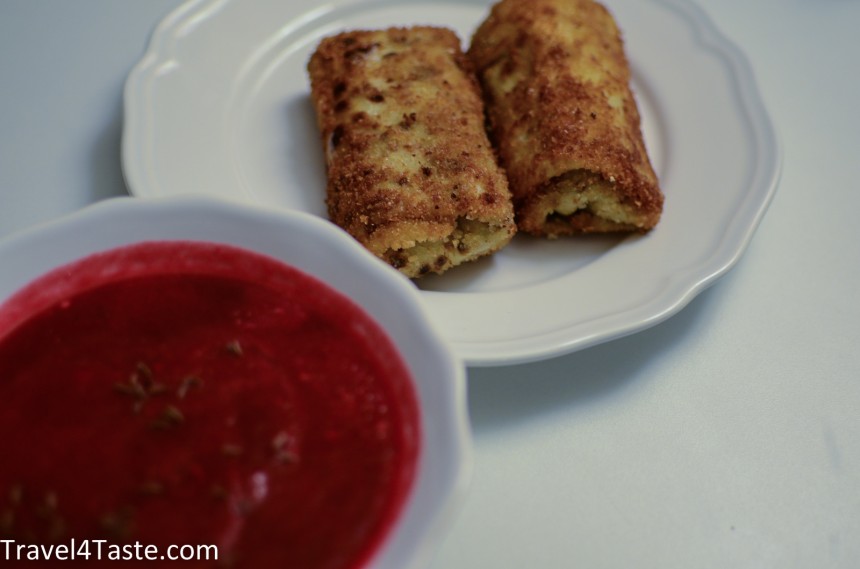 ---
---