Meringues with homemade whipped cream and Raspberries

Incredibly light and sweet dessert! Not only delicious but also beautiful. It is one of these desserts you prepare to impress your guests! :p Although so amazing it is still relatively simple to prepare!
PLEASE visit our Facebook page and LIKE us to stay in touch!
(& if you feel like LEAVE A COMMENT in English, French, Polish or German!)
You will need:
♥ 1 egg white
♥ 50g icing sugar + 2 spoons for cream
♥ 1 spoon lemon juice
♥ pinch of salt
♥ 1/2 spoon corn starch
♥ 200mL cream (at least 30% fat)
♥ raspberries (the best here are the fresh one!)
IMPORTANT: you will need cold cream (think about putting it in the fridge few hours before) and egg white at room temperature (put the egg out at least 1h before starting). The icing sugar should be sieved (prepare it before starting egg whipping).
1. First whip the egg white until stiff. To make it easier the egg should be at the room temperature. It is also crucial there is no traces of egg yellow nor water! Put the egg white with a pinch of salt into a bowl and start beating. As soon as you see the bigger bubbles start to appear and lemon juice and start adding icing sugar and corn starch while beating all the time. Egg white is ready when stiff.
2. Form meringues. I did 5 bigger one but if you prefer you can do more of smaller one. 😉 Bake at 100-110'C for around 45min. Check them time to time to make sure they don't get brown. I didn't this time, and my meringues are a bit too dark. But it's ok, as they anyway will be covered with delicious whipped cream and berries. 😉
TRICK: In order to form meringues I use a simple plastic bag. After filling it with the batter I cut one corner with scissors.
3. When meringues are ready leave them to cool down and start with the whipped cream. If the cream will be cold the whipping should be easy! After 1min of whipping start adding 2 spoons of icing sugar. The cream is ready when it gets stiff. Decorate cooled down meringues with the cream and berries. It is ready 🙂 Beautiful! Isn't it? 😀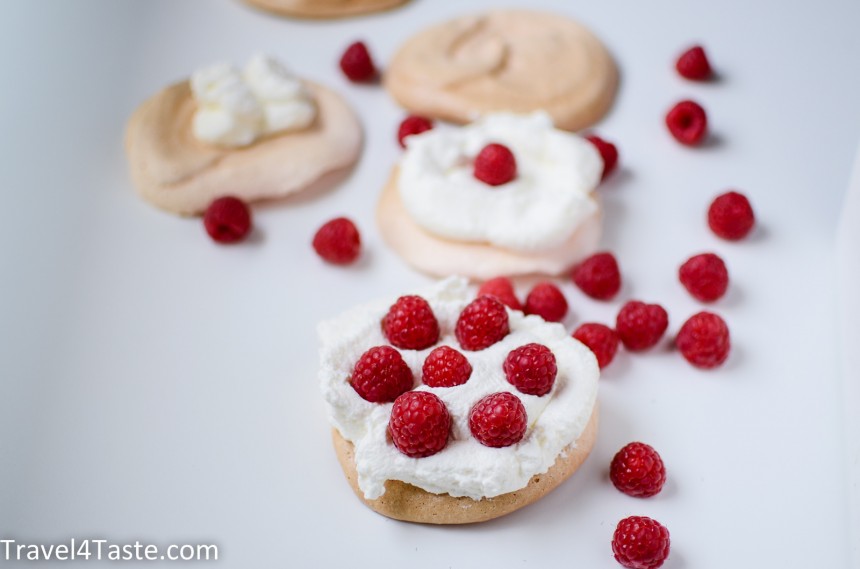 ---
---