Steak Tartare (Beef)

Today something special for Meat-Lovers!
Even though serving a portion of raw ground beef with a raw egg yolk comes from France it is in Poland that I had the best one! My father do an amazing steak tartare ever! And it is his version of this dish I would like to present you today!
Ingredients per person:
♥  Count around 150-200g of meat per person
♥ 1 egg yolk (from a fresh egg!)
♥  1 pickled cucumber
♥ 1/2 white/red onion
♥  couple of capers
♥  pickled mushrooms
♥ olive oil, pepper, salt
♥  bread (for the side)
PLEASE visit our Facebook page and LIKE us to stay in touch!
(Please LEAVE A COMMENT if you feel like  

)
How to choose a good meat?
The best meat for a tartare steak is the Sirloin. Also Silverside will be very good (it is a bit lower quality meat but usually a lot cheaper than sirloin!).
My father is a vet. He knows how to choose a good meat. It is important to buy it from a safe place. The best, just tell the vendor that you need meat for a tartar.
(Pregnant women shouldn't eat raw meat because of the Toxoplasma contamination risk).
1. My father ground the meat by himself (if you have a machine it takes only few minutes!). He do it twice to get the meat finely choped. Next, he adds some olive oil and mix it with the meat.
2. Next, he distributes all portions on the plates and he puts an egg yolk on the   top of each.
3. He then dices onions, pickled cucumber and adds copers and pickled mushrooms. My dad leaves all ingredients on the side so then everybody can mix everything in their favorite way!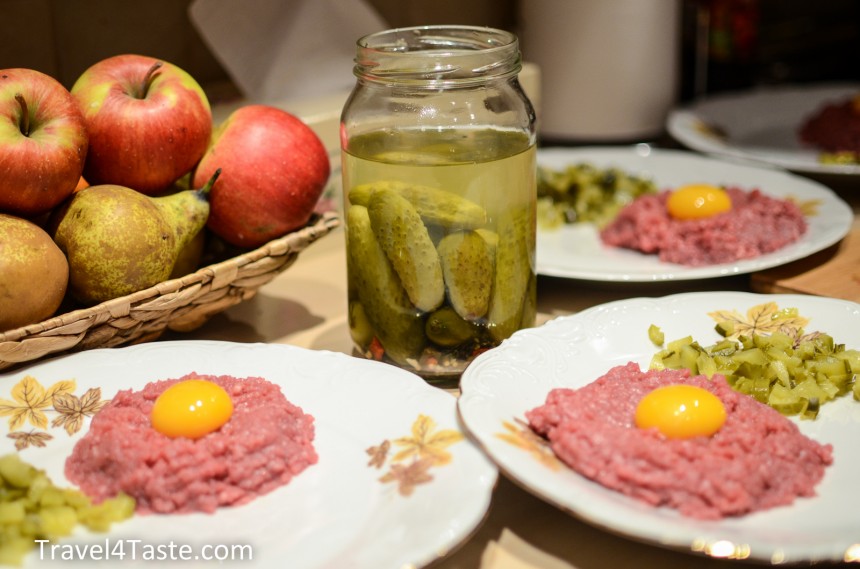 Enjoy! I love it with some extra olive oil, pepper and a glass of good red wine!
---
---