Coconut Shrimps with Spicy Mango Sauce

I previously shared with you my classic tempura shrimp recipe (you can find it here). This original recipe is wheat flour based. Recently, I've decided to try a gluten free diet. Not because I'm sick but just because it seems to be healthier. Also it lets me to discover all other amazing grains other than wheat. All these inspired me to create a new tempura shrimp recipe that is maybe even better than the original one!
It is made with rice & coconut flour which makes it very crispy. It goes really good with the sweet & spicy Mango sauce!
[facebooklike]
For around 50 shrimps:
♥ 70g rice flour (6 tablespoons)
♥ 15g coconut flour (1 tablespoon)
♥ 1 egg yellow
♥ lemon juice from half a lemon
♥ 1/2 teaspoon chili paste (you can add more for more heat 😉 )
♥ 3 tablespoon + 1 tablespoon grated coconut
♥ 4 tablespoons coconut cream
♥ 1 tablespoon soy sauce
♥ 150-200ml cold water (to get the good texture)
♥ oil for frying (rapeseed oil, grape seed oil but NOT the sunflower oil)
Spicy Mango Sauce:
♥ 1 ripe mango
♥ 3 apricots
♥ 1 chili pepper
♥ 1 onion
♥ 2 tablespoons of Malibu Rum (or coconut cream)
♥ 1/2 teaspoon chili paste (you can add more for more heat 😉 )
♥ garlic, 1 little clove
1. If you plan to use frozen shrimps (as I did this time) you should put them out now.
2. You should start with the sauce. It will need to cool down. First, caramelize the onion with a bit of oil. At the same time steam the chili pepper. I remove its seed so it is less hot. Steaming it will make it easier to remove the skin.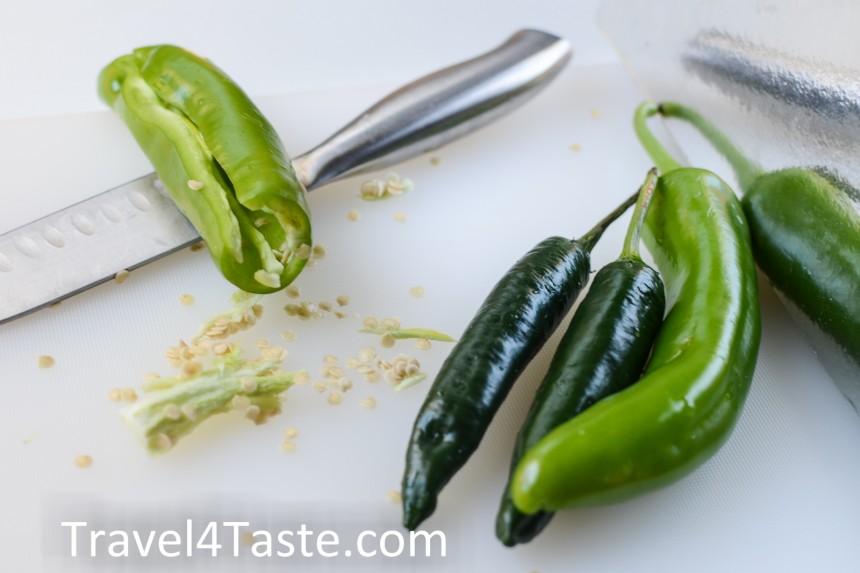 3. When done, add sliced mango (without skin) and apricots. Add steamed chili pepper without skin. Cook everything together for about 10min on a medium heat. Stir time to time. After this time all fruits should turn into "puree" and the sauce should be reduced a bit. Add the chili paste, Malibu and crushed garlic. Stir it all together. Put on the side and let it cool down.
4. Mix all ingredients for the tempura batter except the water. It should give you a quite thick dough. Slowly, while stirring all the time, add water to obtain a good texture of the batter. It should get liquide but still quite thick to coat your shrimps well. Dip your shrimps in it.
5. Heat up the oil in a large pan. Using a tablespoon put out shrimp by shrimp and sprinkle each with a bit of grated coconut before putting on the oil. Fry them on each side for 1-2min until they are golden brown. After frying put out the shrimps on the paper towel to remove the excess of oil.
6. Serve both still hot or cold with the spicy mango sauce. Enjoy! ♥
---
---