Homemade Thyme Pasta with Mushrooms & White Wine

I feel really lucky to live in a place with four distinct seasons. Each of them brings something special. In winter we have Christmas and Hot Wine, Spring comes with the first veggies and during Summer we have an explosions of scrumptious fruits. Despite colder days I'm also excited about Autumn. It brings pumpkins, nuts and mushrooms. And in the today's post I will focus on the latter.
At today's street market we found some beautiful Porcini Mushrooms. I directly though they will be delicious with some homemade thyme pasta & creamy white wine sauce. It worked out fantastic.
[facebooklike]
For 3-4 portions you will need:
sauce:
♥ 200g mushrooms (here we had porcini)
♥ 3 shallots (around 80g)
♥ 125ml white wine (Muscadet or any other dry one)
♥ 50ml greek yogurt
♥ 100ml cream (30% fat)
♥ 150ml milk
♥ 2 tablespoons cornstarch
♥ handful of fresh thyme
♥ olive oil (1-2 tablespoons)
♥ salt & pepper (to taste)
pasta:
♥  100g flour
♥  100g semolina
♥  2 eggs
♥  handful of fresh thyme
1. Follow THESE instructions to prepare your homemade pasta. You might also use the supermarket one.
2. Slice the shallots and sear them with a bit of olive oil. It should take around 3min. After this time add cleaned and sliced mushrooms and sear for another 10min. Stir time to time. You might add a bit of water when the pan gets too hot.
3. When shallots and mushrooms are soft, add greek yogurt and cream. Stir well. Combinte the cornstarch with the milk and add it too. In the end add the wine. Bring it to a boil. Add the fresh thyme. Cook for few additional minutes on low heat. Add salt and pepper to your taste.
4. In a meanwhile cook the pasta and mix it with the sauce. It's ready to serve.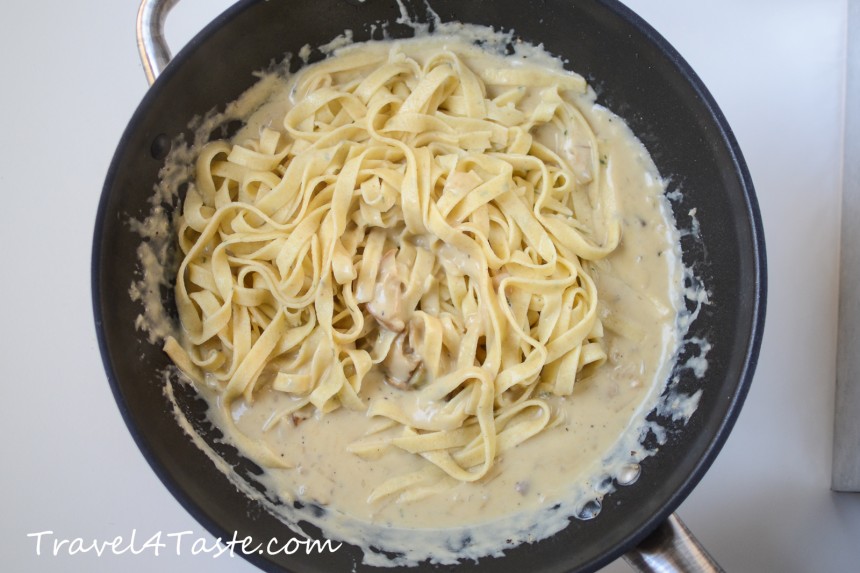 Enjoy ♥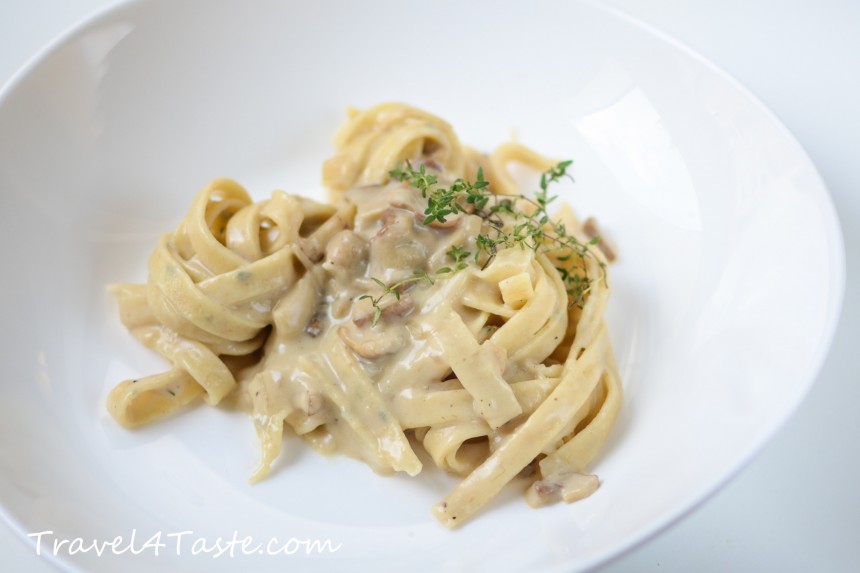 ---
---