Pancakes with Blueberries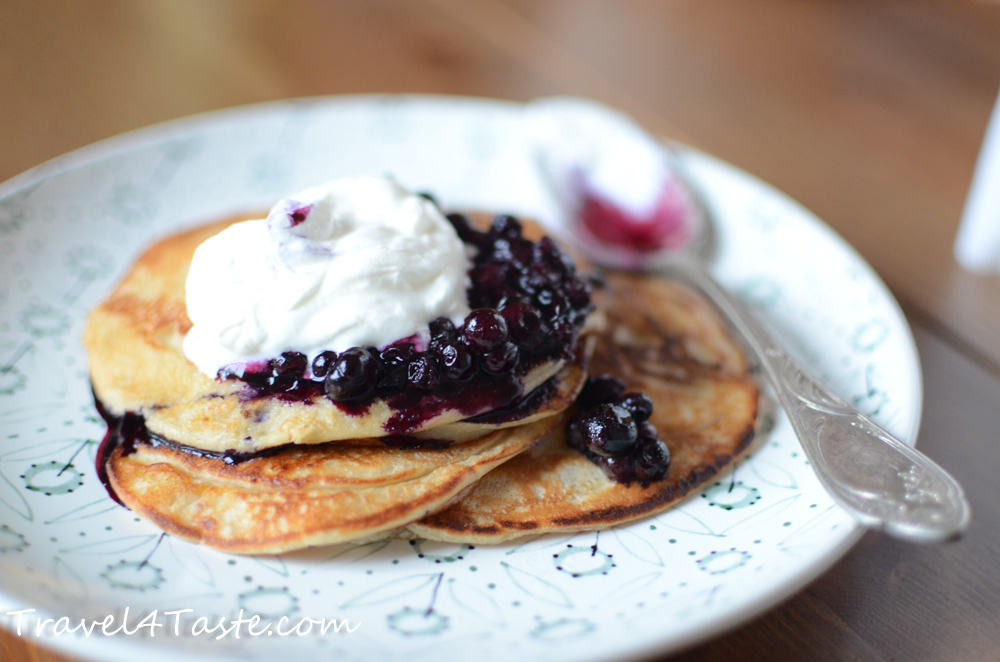 Lately, my life has changed a lot. I defended my PhD and left Paris. It has been my home for the past 10 years. Even though Geneva is a beautiful city that has a lot to offer I still feel like a foreigner here. If that wouldn't be enough, my boyfriend had to stay in Paris … so the status of our relationship turned into a long-distance one. I am OK. I know that in some time we will be together again. In a meanwhile, I focus on my work (which I like a lot).
But when the weekend comes I want to celebrate every moment of it (no matter if we spend it in Paris or in Geneva). These special pancakes are my favorite weekend breakfast since I moved to Geneva. They are super fluffy and soft (because they are made with yogurt and very few flour). We have them with a warm blueberry sauce and whipped cream. Very comforting & full of Love!
For two portions you will need:
♥ 2 eggs
♥ 200g yogurt (e.g. greek yogurt)
♥ 4 tablespoons (60g) flour
♥ 1 tablespoon (15g) homemade vanilla sugar
♥ frying oil (e.g. rapeseed oil)
topping:
♥ cup of frozen blueberries
♥ sugar (optional)
♥ 50ml cold cream (min 30% fat)
1. Start with the blueberry sauce. In a little sauce pan, on a low heat, boil the blueberries. Cook it until the sauce is a bit reduced. Around 5-10min.
2. In the meantime, stir the eggs with flour, sugar and 1 tablespoon of yogurt. When the batter is smooth add the remaining yogurt.
3. On a frying pan warm up a bit of oil. Reduce the heat to medium and form little pancakes. Fry them on both sides until golden brown.
4. If the blueberry sauce isn't sweet enough for you (it might depend on the fruits you use) you might add a bit of sugar.
5. Lastly, whip the cream. Since the pancakes and the sauce are sweet, I don't put any sugar in the cream. TIP: the cream needs to be cold to whip well.
---
---