Little Apple Cakes with Orange Zest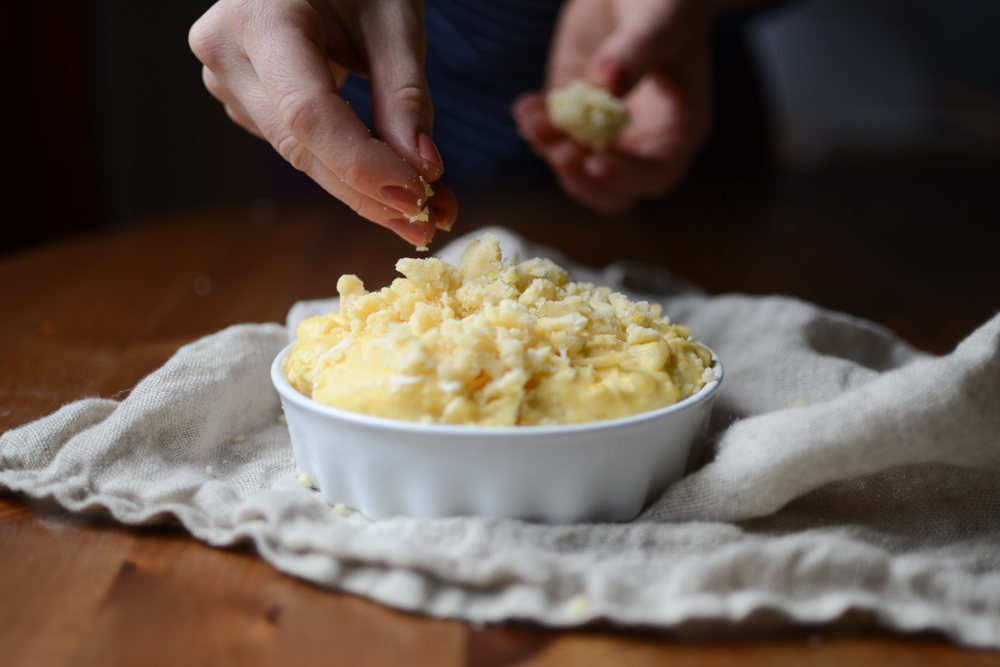 Yet, another variation about the Polish yeast cake. This time I made a couple of little cakes with orange zest and apples. They are fluffy & moist. And topped with a crispy crumble.
These cakes are really easy to prepare but they require some patience (same as all yeast cakes). For the best result, let the dough grow over night.
For  6-8 little cakes you will need:
♥  400g flour
♥  8g dried yeast (or 16g of fresh one)
♥  100ml warm milk (but not hot)
♥  90g (6 tablespoon) homemade vanilla sugar
♥  2 eggs + 1 egg yellow
♥  50g soft butter
♥  zest from 1 orange
♥  pinch of salt
♥  5 apples, grated
Crumble:
♥  50g flour
♥  35g butter, cold (from the fridge)
♥  30g (2 tablespoons) homemade vanilla sugar
All ingredients (but milk) should be at the room temperature. Put them out of the fridge at least one hour before you start.
1. In a bowl mix the yeast with 1 tablespoon of sugar and warm milk (not hot; around 30°C) . Leave it under cover for 15min (in order to activate the yeast).
2. In a big bowl mix the flour, orange zest, sugar, eggs, salt, soft butter and activated yeast. Use a big spoon or your food processor to combine all ingredients. At this point the dough is very soft and sticky.
3. Sprinkle the dough with a bit of flour and cover the bowl with a towel (to prevent from drying). Leave in a warm place for at least 2 hours (the best: overnight in the fridge or other cold place). It should at least double its size.
4. The next morning, peel the apples and grate them. Add them to the dough and mix. The apples will make the dough even more moist. Sprinkle everything with some flour and leave it for another 1-2 hours.
5. Prepare the baking forms: smear butter on their bottoms and walls and then powder them with some flour.
6. Divide the dough into 6-8 parts and put each in a baking form. Leave to grow for another hour.
7. Combine all the ingredients to make the crumble. Sprinkle it on the top of every cake.
8. Bake at 180°C for around 25-30min. To check if the cake is done inside insert a wooden toothpick in its center. If it comes out clean (no wet pieces of the dough) it is ready.
9. Wait for the cakes to cool down a bit before removing them from their baking forms. Enjoy ♥
---
---