Crepes are very popular in France. You can get them everywhere in Paris. It is a quick and delicious way to have a bite during lunch time or after work. There are different combinations available: with cheese and ham, with an egg, with vegetables and French or Italian cheese, but also sweet versions with Grand-Marnier (orange-flavored brandy liqueur) or simply with Nutella.
It is also lots of fun to invite friends and do them together! Everybody can customize their own crepe.

Follow us on Facebook & Instagram
Here some ideas for salty crepes!
For around 10 crepes:
♥  160g flour (1 glass)
♥  500g milk (2 glasses)
♥ 2 eggs
♥  oil (I use olive oil, but butter will be very good here too)
To put inside the crepes:
♥  cheese (eg. Gouda, mozzarella, Parmesan)
♥  ham
♥  tomatoes
♥  Leek
♥  Mushrooms
♥  Red paprica
♥  Avocado
♥  Eggs
♥  salt, pepper, herbes de provence (thyme, basil etc.)
1. Cut leek and few mushrooms and fry them on a pan with a bit of olive oil, salt and pepper.
2. Mix together flour, milk and eggs (you can use a blender).
3. Put a drop of oil on a hot pan (a bit more than medium fire or power of stoves). Here the best is a flat, pancake pan. As soon as oil is hot put appropriate amount of crepe dough. You want your crepe to be very thin.
4. After around 1min the crepe will start to be done enough to be able to flip it on the other side.
 5. As soon as you turn the crepe on the other side, start adding cheese, ham and vegetable. then fold it into half.
6. Another combination might be: cheese, ham, fried leek with mushrooms and an egg.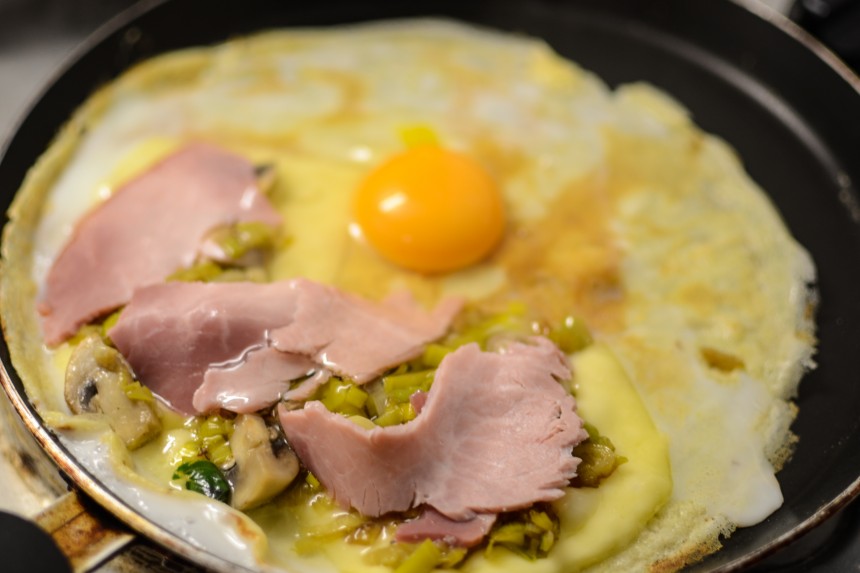 7. As soon as the egg white will start to get white (instead of transparent) you can fold the crepe and still bake it 30 seconds on each side.
8. I also love crepes with some avocado!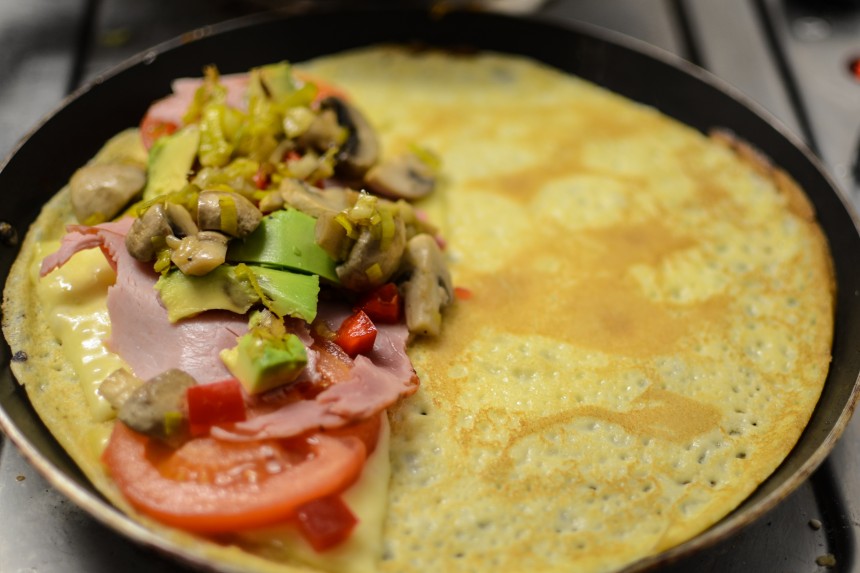 9. These salty crapes can be served with a simple salad with french dressing.
Bon appétit!