Chicken with mushroom sauce

It is delicious and very savory! In Poland, with my grandparents, I used to go mushroom hunting every year. Polish forests are full of boletus and chanterelles. We were eating these with scramble eggs in the morning. The best thing in the world!
Here I would like to present you another nice way to use mushrooms: a creamy sauce that is perfect with chicken! 🙂
In France I usually buy frozen mushrooms as they are cheaper and easier to get. These are perfectly fine for this dish! 🙂
[facebooklike]
For 2 portions (generous portion of sauce!):
♥  200g chicken, sliced
♥  2 handful frozen mushroom mix
♥  200mL cream (eg 12% fat)
♥  200mL milk
♥  2 teaspoons corn starch
♥  1 spoon soy sauce
♥  pinch of pepper
♥  salt to taste (I don't add any because soy sauce is already salty enough for me)
1. Start with searing sliced chicken. Put it in a hot pan with olive oil. Stir for 1-2min until it is done (don't do it too long!)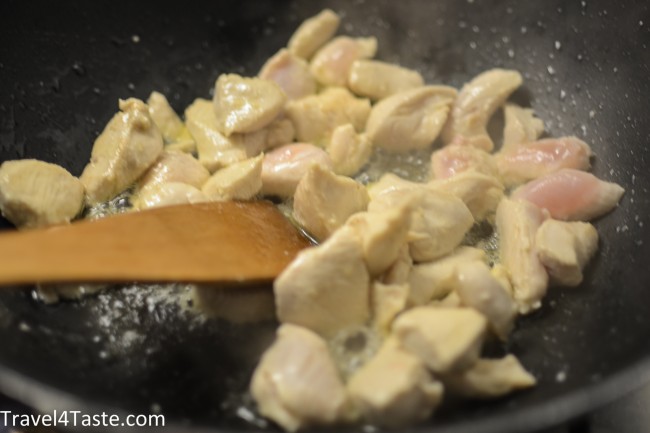 2. Put the chicken out on a plate. You will need the frying pan to prepare the sauce (no need to wash it now).
3. Put the mushrooms in the frying pan with a little bit of olive oil. Add a pinch of salt.  Fry the mushrooms until they get softer (it might take around 10min).
4. Now mix the corn starch with the cold milk and mix it with the cream. Add it to the mushrooms.
4. Now stir all the time until the sauce starts to boil. It will get thicker. Then add soy sauce and the chicken. Stir everything for another 1min and it's ready! 🙂
5. We had it with delicious polish potato dumplings! But it is also delicious with rice. 🙂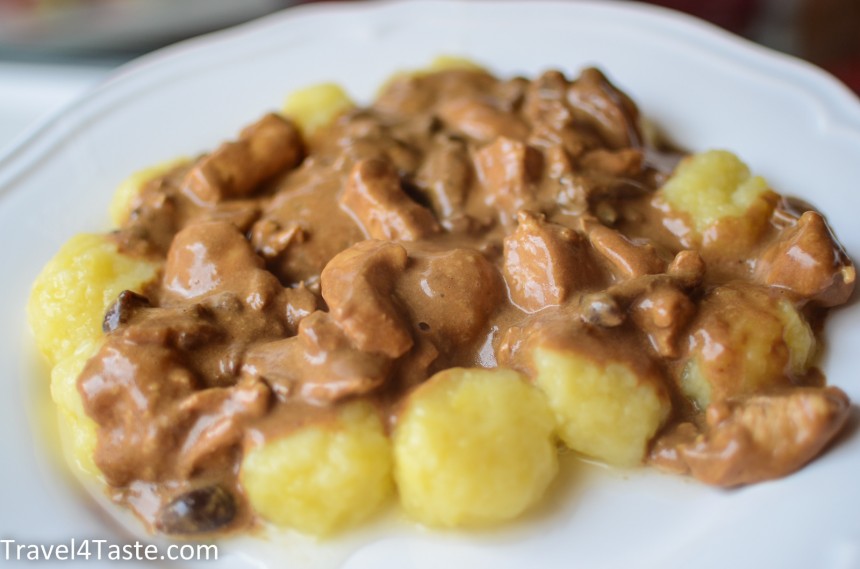 ---
---