Sangria

During winter my favorite evening drink is hot wine and during summer it is sangria!
There are many ways to prepare this drink. You can use the red or white wine and there are countless possible fruit combinations!
Here I made it with apple and citrous fruits with the addition of the orange liqueur.
[facebooklike]

For 2-3 portions you will need:
♥  300 ml red wine (dry, eg. Merlot)
♥  25 ml Brandy
♥  45 ml orange liqueur (eg. Grand Marnier or Cointreau)
♥  1/2 orange
♥  1/3 lemon
♥  1/2 lime
♥  1/2 apple
Additionally:
♥  1-2 teaspoons of honey (or Agave Syrup) / portion (to taste)
♥  25-50 ml bubble water / portion (to taste)
1. Slice fruits. Citrous into slices, apples into cubes.
2. Fit most of them in a bottle or a pitcher (leave some for decoration of glasses!). Pour wine over it.
3. Add brandy and orange liqueur.
4. The best would be to leave it in the fridge overnight so the wine take the taste of fruits. If you are impassion couple of hours will do too! Serve cold with some bubble water and honey if needed. 🙂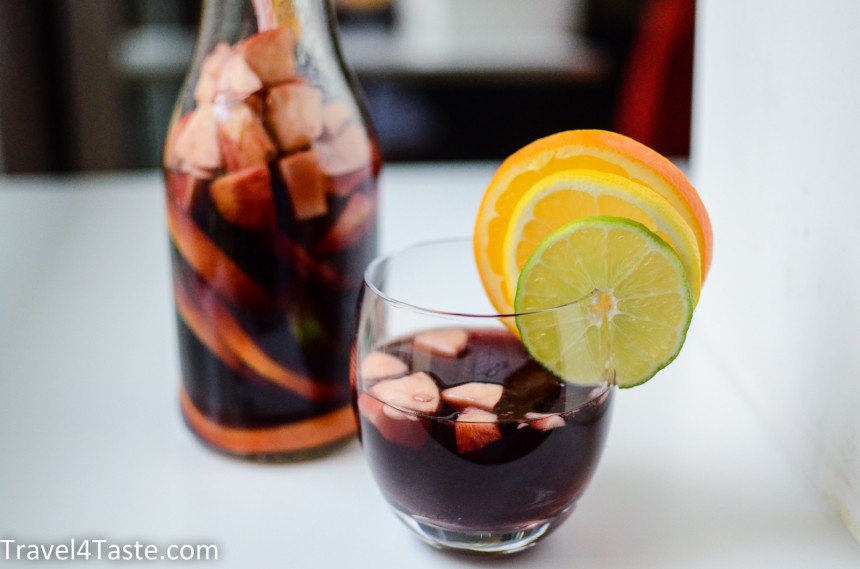 ---
---