Plum & Chocolate Confiture

For me it is one of the tastes of Polish Christmas. At my grandparents we always had these huge chocolate sweets with an entire plum inside. This confiture really reminds me of them!
Here additionally to chocolate I've added some freshly ground cloves, allspice and a cinnamon stick. Irresistible!
[facebooklike]
For around 400ml of the confiture
♥  1kg plums
♥  130g sugar
♥  20g (1,5 tablespoon) homemade vanilla sugar
♥  50g dark chocolate (eg. 70% cocoa)
♥  10 cloves
♥  10 grains of allspice
♥  1 cinnamon stick
1. Remove the stones from plums.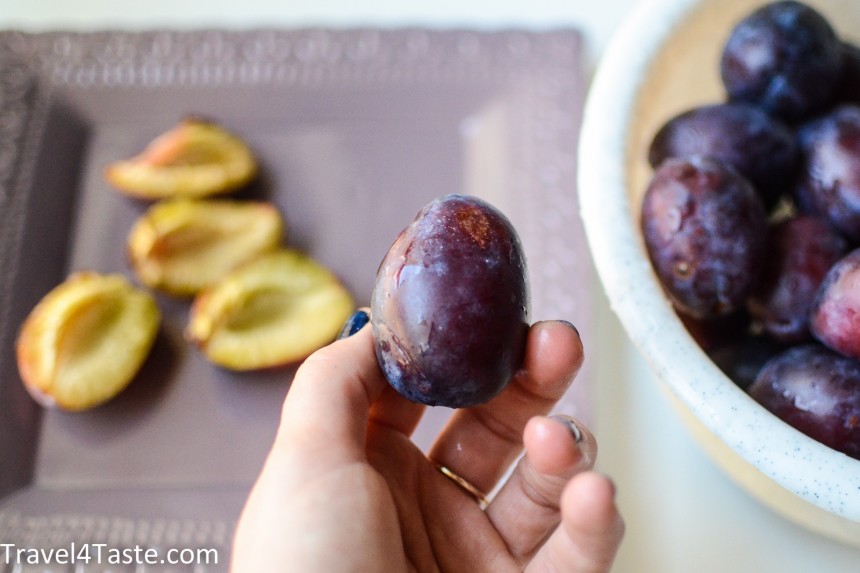 2. Blend the plums.
3. Add sugar and cook it on a medium low heat for about 1h45. A large, non-stick frying pan is the best for that. Stir  it every 10 minutes to make sure the plums are not sticking to the bottom (you don't want it to burn!).
4. While cooking the plums will turn from brownish to a nice red/purple!
5. After 1h45 of cooking add chocolate, cinnamon stick and the freshly ground cloves and allspice. To ground them you can use a mortar or a coffee mill.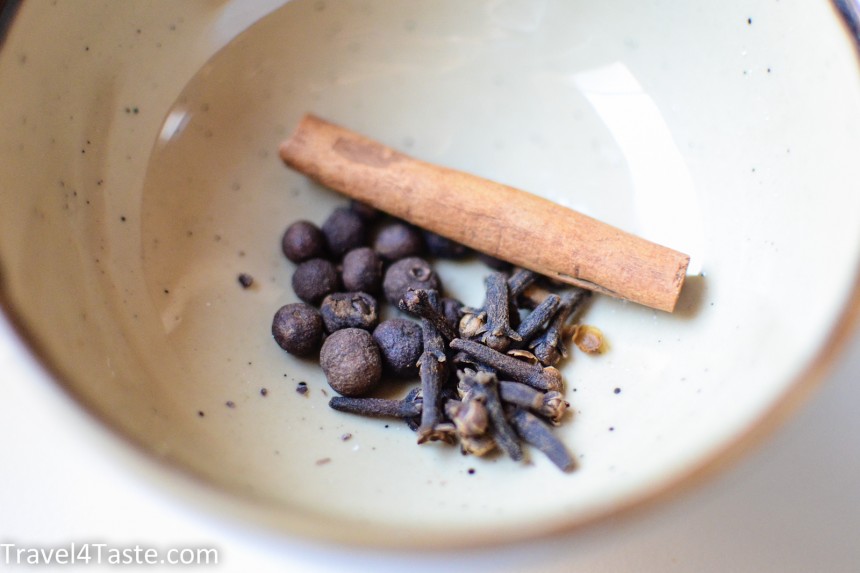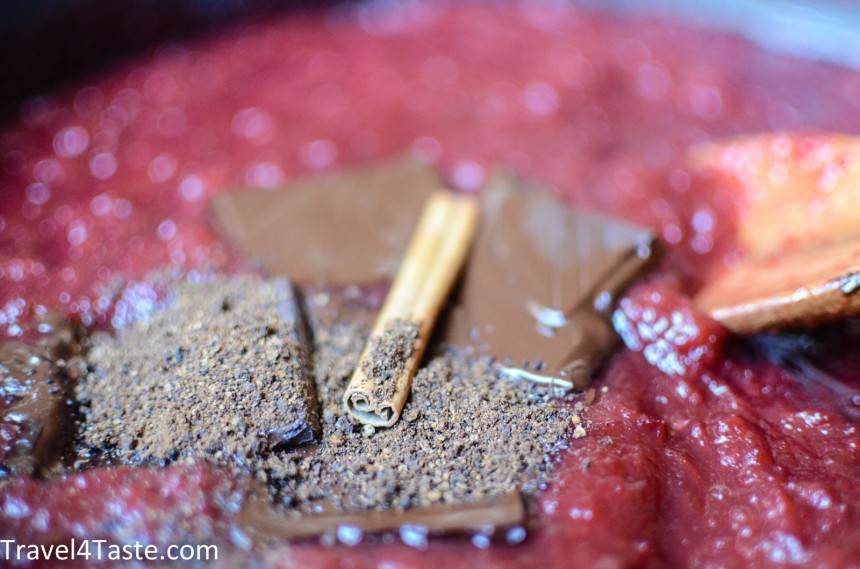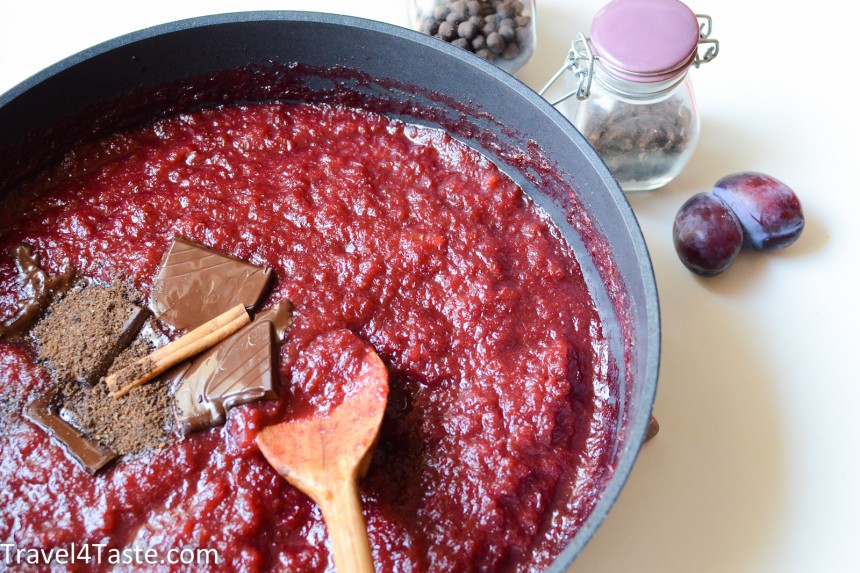 6. Stir everything together and cook for another 30min. Stirr time to time to prevent sticking to the bottom.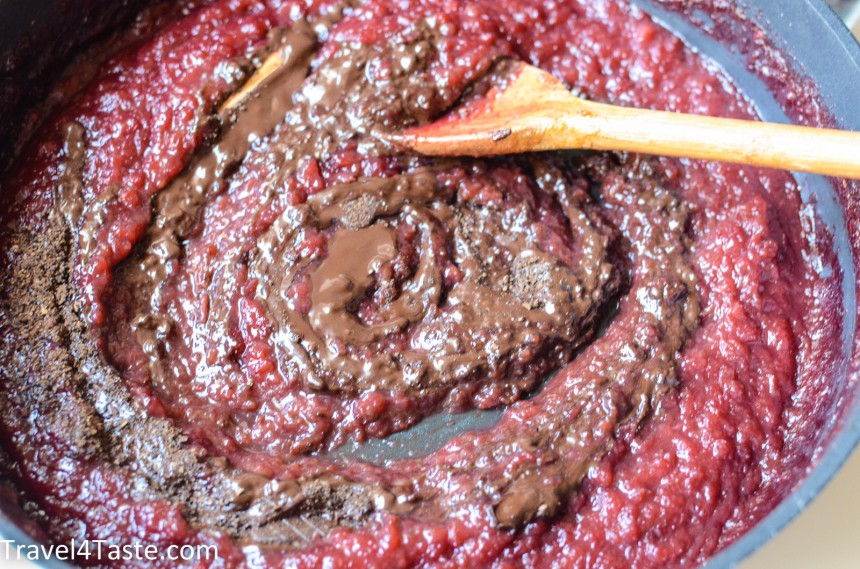 7. While the last cooking time prepare the jars in which you would like to store the confiture. You can either boil them in water or bake in the oven preheated to 160'C. If you decide to use oven, do not put the gummy parts or the metallic covers.
8. Put the still very hot confiture into the jar. Clean up the edges using a tissue with alcohol or very hot water.
a) If you use a similar jar that I do (the one with the gummy seal) you just need to close the jar and put it upside down. Leave it until they cool down.
b) If you use a simple jars with metallic lid, you will need to cook them after closing for about 10min. In order to do that put a towel on the bottom of a big pot. Put the closed jars with confiture on it and cover with water. Bring it to the boil and cook for 10min. After this time put the jars out and let them cool down.
You can keep these well closed jars in a dark, cold place. To be sure that the jar was well close you should hear the pressure to be released while you open it.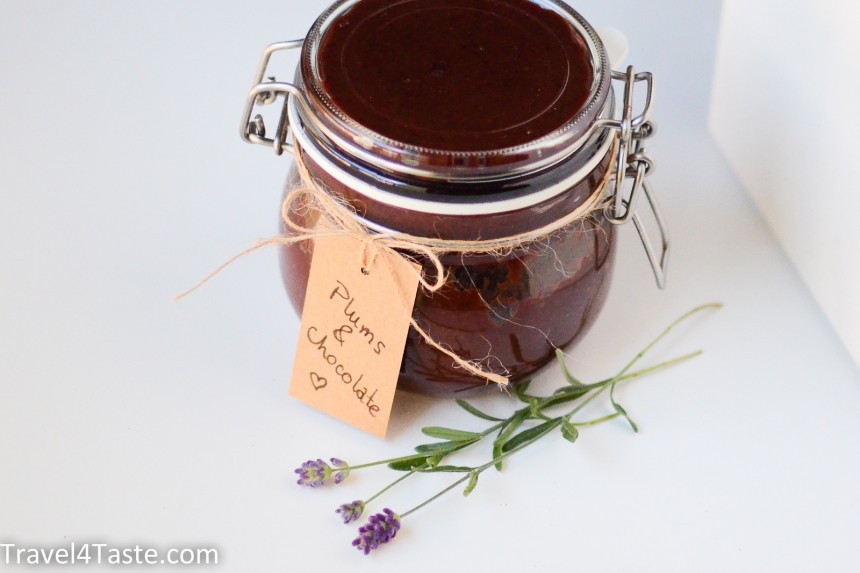 It can be a perfect christmas gift!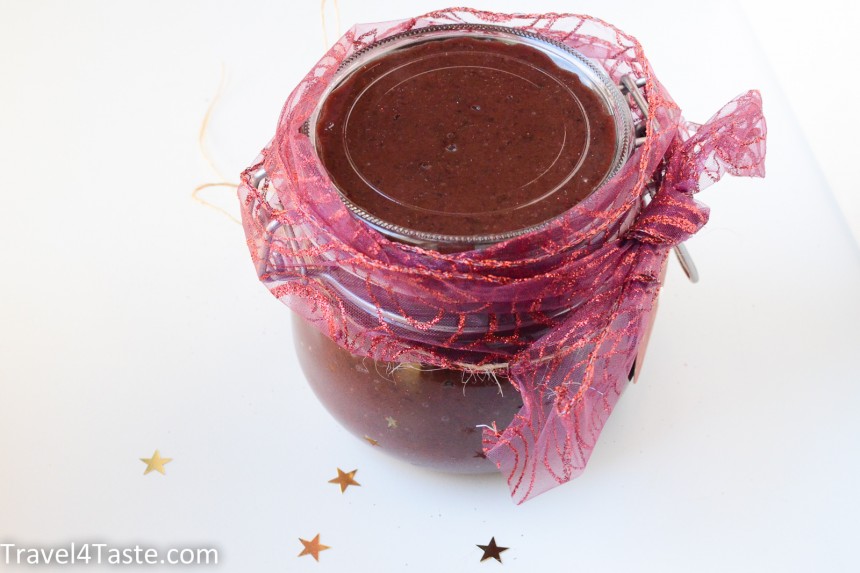 ---
---