Gateau au Chocolat (French Chocolate Cake) with Walnuts

This cake is extremely simple to prepare and full of chocolate!
I customized this traditional French recipe by adding walnuts.
It is especially delicious when served still warm with a cup of coffee.
[facebooklike]
For a little cake you will need:
(I used 20x13x5cm form)
♥  50g flour (around 3 tablespoons)
♥  50g cornstarch (around 3 tablespoons)
♥  100g butter
♥  3 eggs
♥  150g dark chocolate (I used 70% cocoa)
♥  60g sugar (around 4 tablespoons)
♥  1,5 teaspoon baking powder (or baking soda)
♥  pinch of salt
1. Start with melting the chocolate with butter in a little saucepan over a low heat. Keep stirring so it doesn't  burn on the bottom. Put it on the side when melted.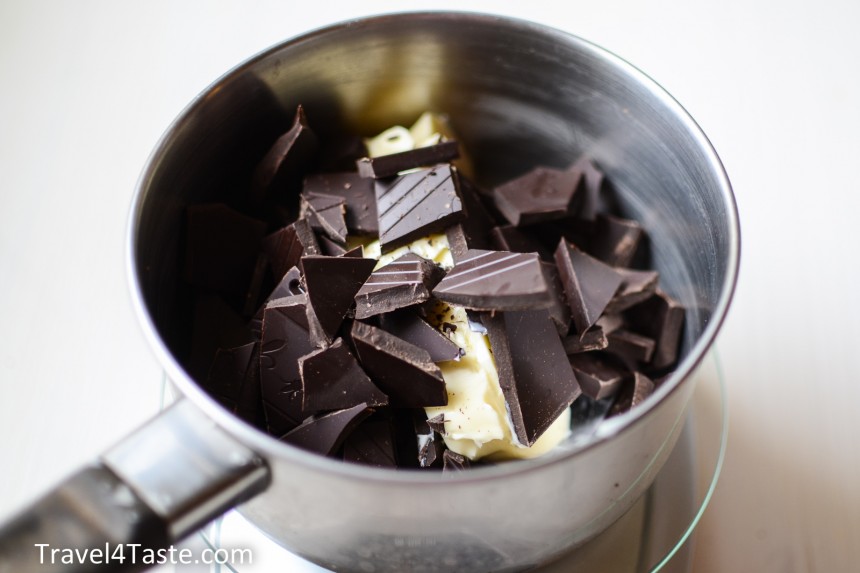 2. Beat eggs with sugar until they get whiter and fluffy.
3. Add flour, cornstarch and baking powder and stir it well.
4. Add melted chocolate and walnuts. Stir and transfer to the oven-proof dish.
5. Bake at 170'C for about 25-30min.
---
---