3 Layer Birthday Cake with Cocoa, Pecans, Dulce de Leche & Brandy

A birthday without a big cake wouldn't be the same. When I was a child it was definitely a hit of the B-day program: lights were going off and my mum was entering the room with beautiful cake full of little candles! ♥
Today somehow everybody is more busy and it is easier to just buy a cake. But believe me, making the cake at home will give you loads of pleasure & satisfaction! And it is much easier to do than you think!
Here I tried to present you (as clearly as I can) a step by step recipe for a three layer birthday cake with cocoa, pecans, dulce de leche & brandy.
PLEASE visit our Facebook page and LIKE us to stay in touch!
(Please LEAVE A COMMENT if you feel like ♥)
For 3 layer round cake (23cm of diameter) you will need:
sponge cake:
♥  6 eggs
♥  6 tablespoons flour or 6 tablespoons of oatmeal, ground for a gluten free version
♥  2 tablespoons homemade vanilla sugar
♥  3 tablespoons of cocoa powder
♥  75ml brandy
♥  75ml water
cream:
♥  330mL cream (at least 30% of fat) VERY COLD (at least 4h in the fridge)
♥  3 tablespoons icing sugar
♥  3 tablespoons cocoa powder
caramel filling:
♥  can of condensed milk with sugar (300g)
♥  120g of butter softened
decorations:
♥  pecans (or other nuts)
1. Start with preparing the caramel filling. You will prepare the Dulce de leche by cooking the closed can of sweetened condensed milk for 2h in a pot with water.
(You can cook the condensed milk even few days in advance. Keep it in a closed until the day of cake preparation when you will mix it with the butter).
2. When the 2h of cooking is over, cool down the can  (e.g. in cold water bath) and carefully open it.  The milk inside turned into caramel-like thick cream. Now, whisk the softened butter. Progressively, add the caramelized milk while stirring all the time.
3. Next, prepare the dough. I do it in 3 steps: each layer at once.
For one of three layers you will need:
♥  2 eggs
♥  2 tablespoons flour or 2 tablespoons of oatmeal, ground for a gluten free version
♥  1 tablespoons icing sugar
♥  1 tablespoons of cocoa powder

3a. Fist separate the egg yellows from whites. Beat egg whites with a pinch of salt until stiff.  In another bowl mix well 2  egg yellows with icing sugar sugar. Gently incorporate egg whites into egg yellows. Then add sieved flour, cocoa powder and baking powder. Mix everything well but gently.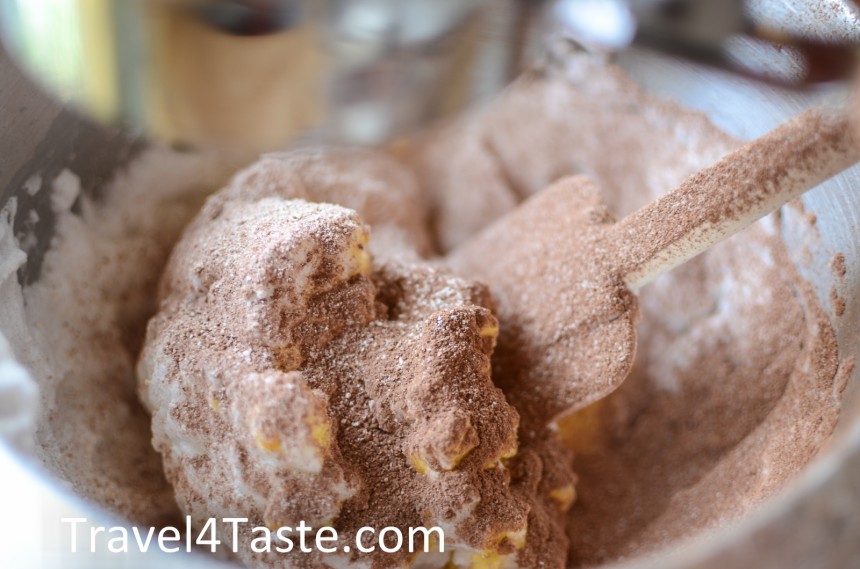 3b. Pour the batter on the baking form and bake at 180′C for 10min. After baking, directly put it out and place upside down supported on 3 glasses/cups (like that it will stay fluffy after it cools down). Leave it at least 10-15min to cool down before removing from the form. Repeat all steps to prepare the other two layers.
4. Finally it is time to prepare the cream. The only danger here is that you won't beat the cream long enough (or you will beat it too long- but this never happened to me). To succeed it is important to use very cold cream. I leave it overnight (or at least 4h) in the fridge and just before beating it I put it for 5-10min to the freezer. Also the bowl you will use should be cold. If your cream is well cooled down it should go easily!
4a. Put the cold cream into the bowl and add icing sugar. Start beating (the best is to use a food processor- it is much quicker!). After few minutes cream will get stiff so the patterns you will draw on its surface will stay on it. It shouldn't be liquid at all.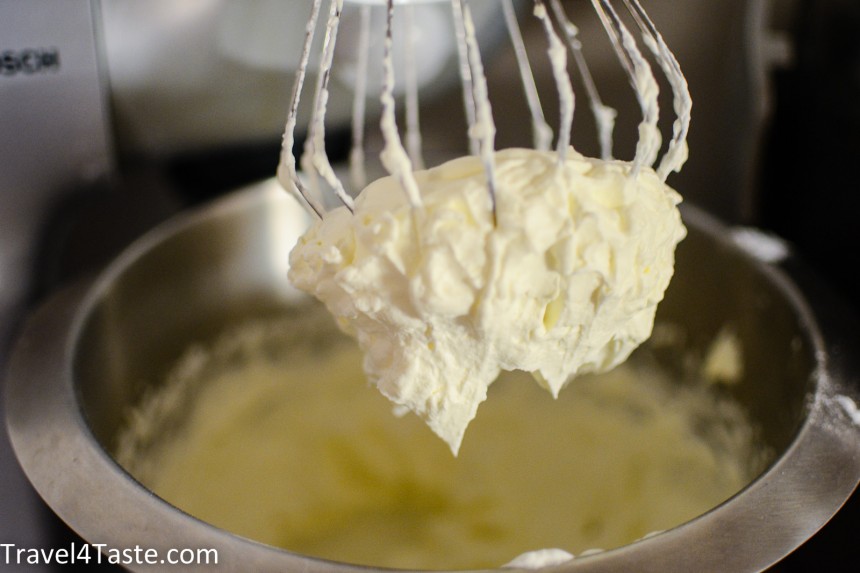 4b. Spoon by spoon incorporate the mascarpone cheese. Mix everything well after each addition. Next, add sieved cocoa powder and eventually more icing sugar (if it is not sweet enough for you). Cream is ready! 🙂
5. Now, mix water with Brandy and using a tablespoon moisten each cake layer. Next, put a layer (not too thick) of caramel cream on the first layer of cake.
6. Directly on the top of the caramel layer smear some cocoa whipped cream & add some pecans.
7. Add 2 reminding cake layers and decorate each one with the whipped cream.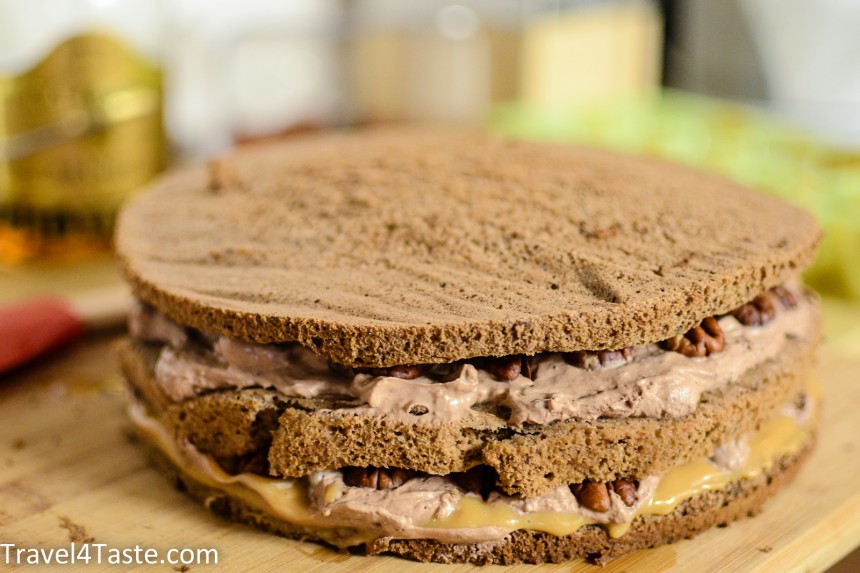 8. In the end cover the entire cake with reminding whipped cream and decorate with pecans and some cocoa powder. Voila! it's ready! 😀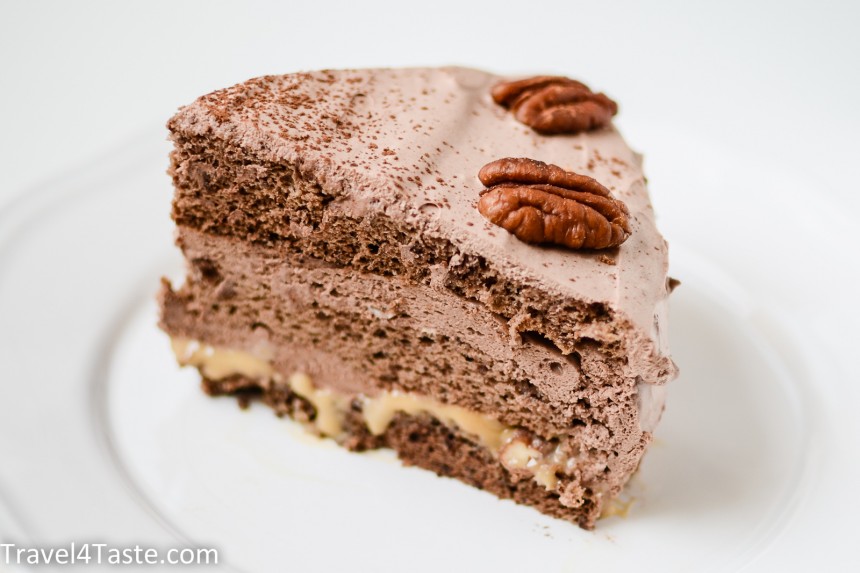 ---
---