Halloween Pumpkin Muffins with Spiderwebs
Trick or treats?! Those soft and aromatic Pumpkin Muffins are definitely a treat! 🙂
It is one of my favorite ways to use the pumpkin pulp. These muffins are super simple and quick to prepare and spiderwebs fun to do!
[facebooklike]
For 6 big muffins (ar 10 smaller):
♥  1 cup pumpkin pulp (200-250mL)
♥  1 glass of flour (135g)
♥  100 mL vegetable oil (rapeseed oil, grape seed oil but NOT the sunflower oil)
♥  2 eggs
♥  1 teaspoon baking powder
♥  1/2 teaspoon baking soda
♥  1/2 glass sugar
♥  1 vanilla sugar (8g bag or 1 tablespoon of home made vanilla sugar)
♥  1 teaspoon cinnamon powder
♥  5 cloves
♥  5 grains of allspice
♥  1/3 teaspoon nutmeg  powder
♥  1/2 teaspoon ginger powder
For cream:
♥  200g cream (at least 30% fat)
♥  100g mascarpone
♥  4 tablespoons icing sugar
♥  zest from half an orange
Spiderwebs:
♥  50g black chocolate (e.g. 70% cocoa)
1. In a bog bowl mix all dry ingredients: flour, sugar, baking soda, baking powder and spices. Add pumpkin sliced into little pieces.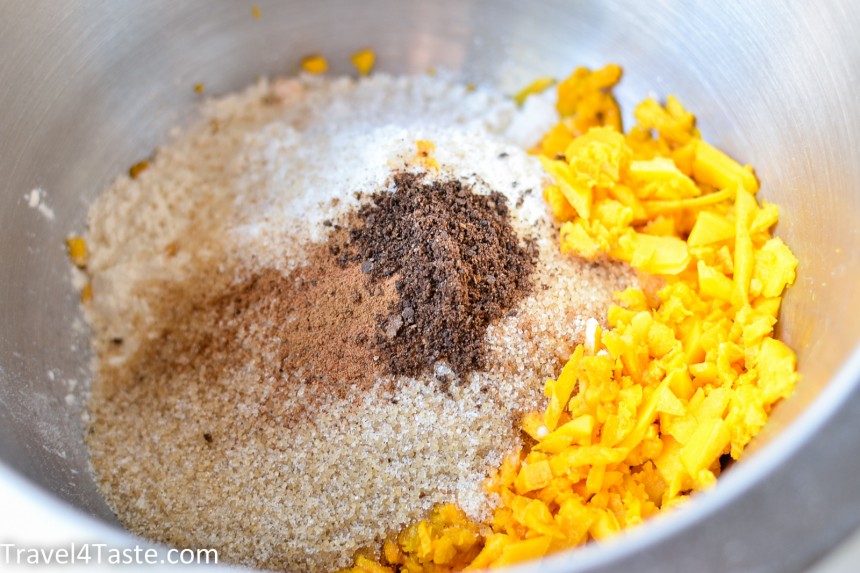 2. Add eggs and oil. Using a spoon mix everything together.
3. Fill 3/4 of each muffin form with  the dough. Bake in preheated to 180′C oven for 20-30min (depending on size). The muffin will nicely grow and they will get browner.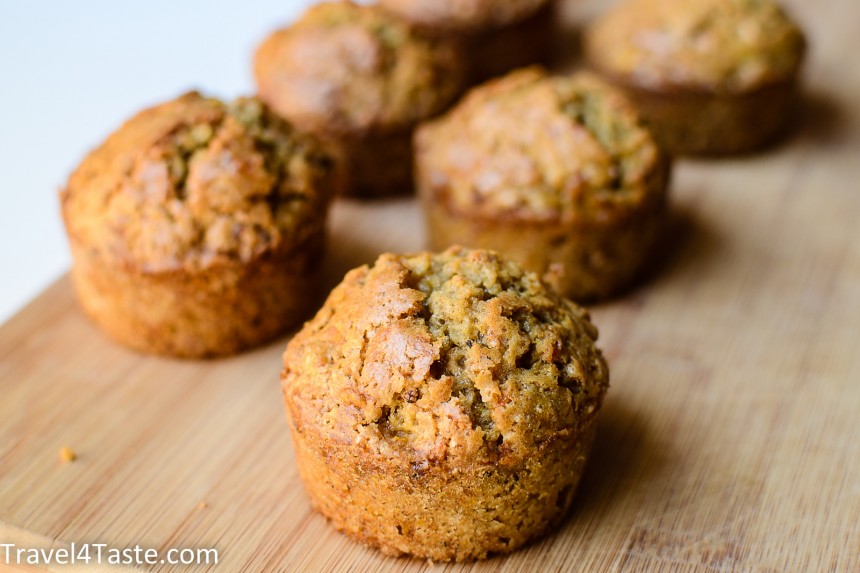 4. While the muffins are cooling down prepare the decorations & frosting.
5. On a piece of paper draw a simple spider web. Cover it with a sheet of a transparent baking paper. Melt the chocolate and using a wooden stick draw the spider web on the baking paper. Leave it in the freezer until it thickens. (Do a bit more of them in case of breaks!).
6. Prepare the frosting.
Is important to use very cold cream. I leave it overnight (or for at least 4h) in the fridge and just before whipping it I put it to the freezer for 5-10min. Also the bowl you will use should be cold. If your cream is well cooled down the whipping will go very easy!
Pour the cold cream into the bowl and add icing sugar. Start whipping (the best is to use a food processor- it is much quicker!). After a couple of minutes cream will get stiff. It shouldn't be liquid at all.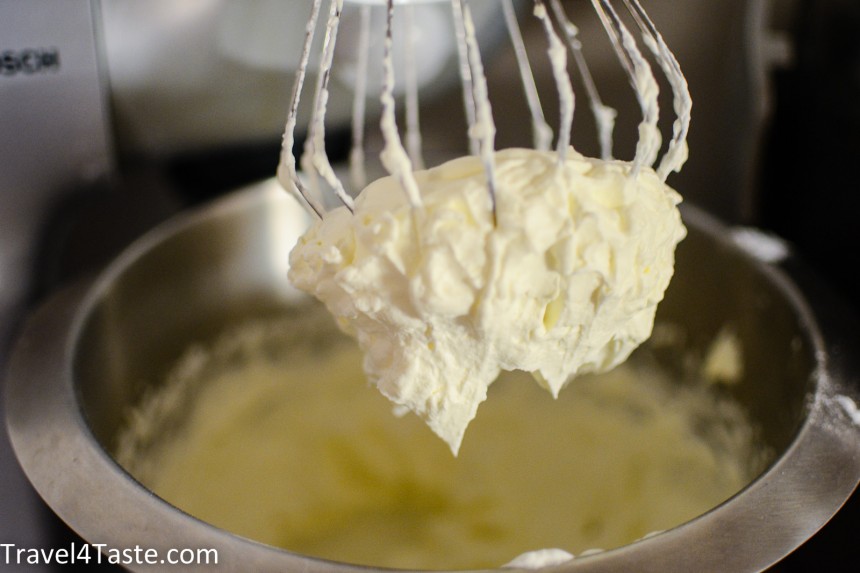 7. Spoon by spoon incorporate the mascarpone cheese. Mix everything well after each addition. Next, add orange zest. Cream is ready! 🙂
8. Decorate cupcakes with the cream.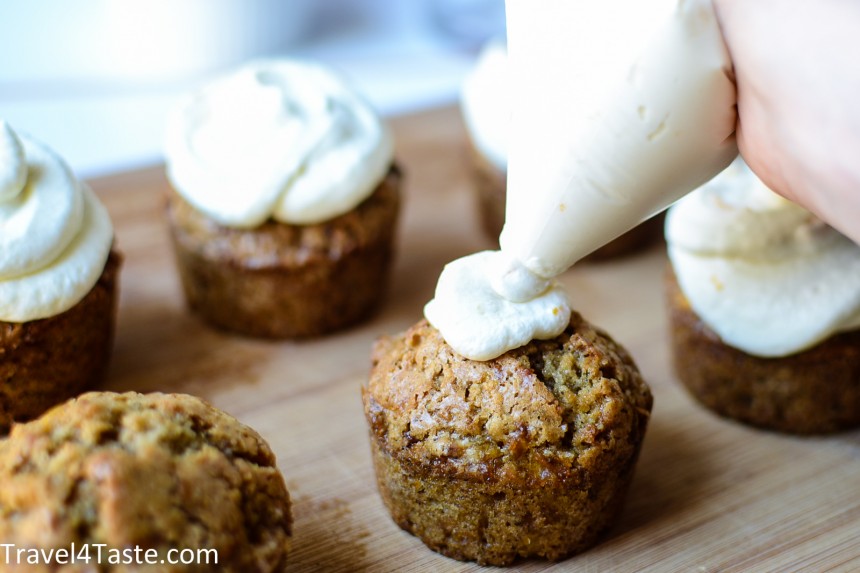 9. Using a cold, thin knife gently detouch the chocolate spiderwebs from the baking paper. You might decorate them e.g. with a golden powder. Stick them on the top of your muffins.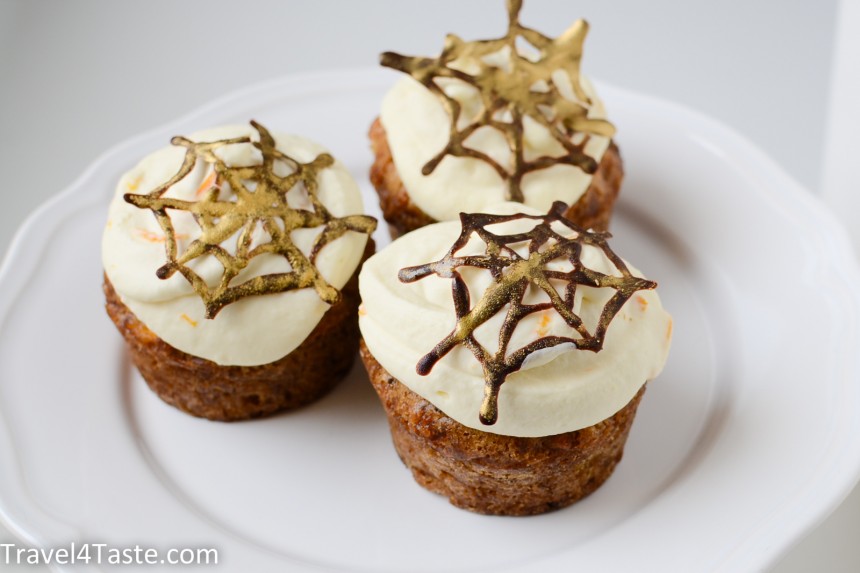 Enjoy!
---
---