Yeast Roses with Apples

This Cake is soft and fluffy. The recipe is inspired by the classical Cinnamon Rolls. Here I added some apples and formed the rolls into roses. My favorite, creamy lemon icing fits perfect here.
[facebooklike]
I used a round cake form (22cm of diameter and 6cm tall)
You will need:
♥  400g flour
♥  8g dried yeast (or 16g of fresh one)
♥  100ml warm milk (but not hot)
♥  5 tablespoon homemade vanilla sugar
♥  2 eggs + 1 egg yellow
♥  50g soft butter
♥  pinch of salt
Filling:
♥  500g apples (peeled & sliced)
♥  1 teaspoon cinnamon
Frosting:
♥  3 tablespoons cream (at least 30% fat)
♥  2 tablespoons sugar
♥  lemon zest from 1/2 lemon
♥  1 tablespoon lemon juice
All ingredients (but milk) should be at the room temperature. Put them out of the fridge at least one hour before you start.
1. In a bowl mix the yeast with 1 tablespoon of sugar and warm (not hot) milk. Leave it under cover for 15min.
2. In a big bowl mix the flour, vanilla sugar, eggs, pinch of salt, soft (or melted) butter and activated yeast. Use a big spoon or your food processor to combine all ingredients.
3. Now using your hands (or if you are more lucky and you have a robot- using a hook shaped ends) knead the dough.
If you do it by hand powder them with some flour to prevent the dough from sticking.
4. The dough will be a bit sticky and very elastic. Sprinkle it with a bit of flour and cover the bowl with with a towel (to prevent from drying). Leave in a warm place for 1-2 hours. It should double its size.
5. Peel and slice the apples. Cook them with just a little bit of water for about 20-30min. They should get very soft and turn into puree. Add cinnamon.
6. When the dough doubled its size knead it again shortly. Divide it into 6 pieces (first into 3 then cut each one into two). Roll out each piece into a long rectangle and cut out 4 circles of 7-8cm of diameter. Keep leftover dough. From those 6 pieces you should get 24 circles. Take the leftover dough and cut from it another 8 circles. Each 4 circles will form one rose. With the total 32 circles you can do 8 roses.
7. On each circle put a bit of the apple puree. Put 4 circles overlapping with one another and fold them (see pictures below). Put the roses into an ovenproof dish. They will still grow so you should leave some space between them. Leave them in a warm place for another 1-2 hours.
My dough after 35min:
8. Bake at 180′C for around 30-40min. To check if the cake is done inside insert a wooden toothpick in its center. If it comes out clean (no humide dough) it is ready! Leave it too cool down before removing from its ovenproof dish.
In a mean time, prepare the lemon icing by mixing the cream, sugar, lemon juice and lemon zest. Bring it to a boil and stir until the sugar is dissolved. Use a still warm frosting to top your cake.
Enjoy ♥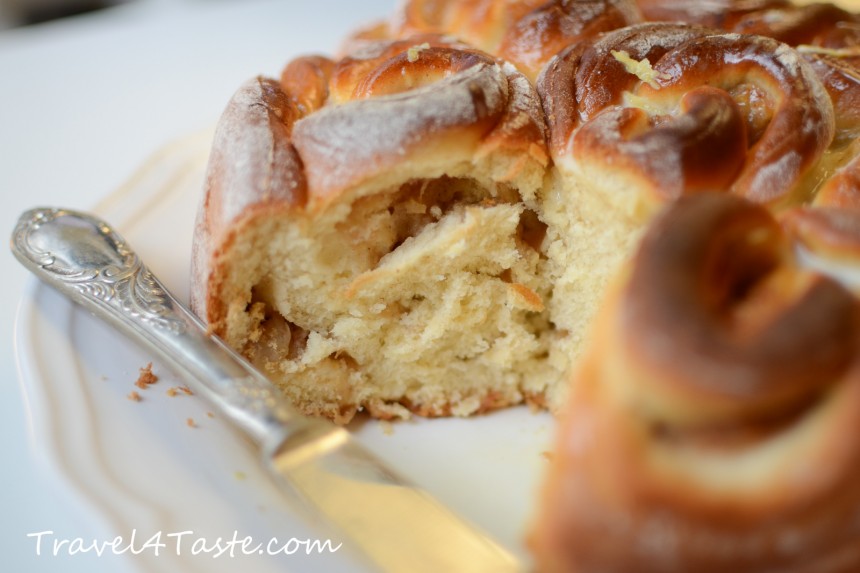 ---
---